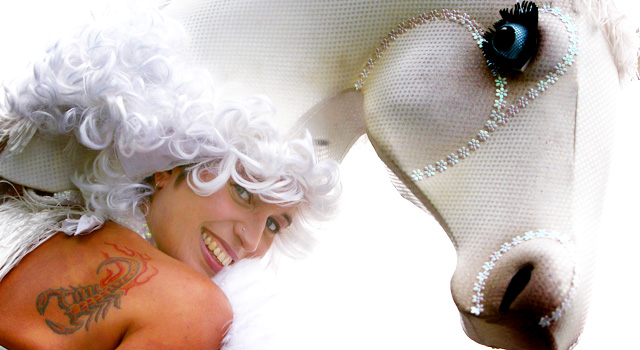 Joe Cocker recorded a sexy song about a woman leaving her hat on—and not much else. "You Can Leave Your Hat On" played during Kim Basinger's steamiest scene in "Nine ½ Weeks." It's unclear how Cocker-esque things might get this weekend at La Costa Resort and Spa. But the hotel's inaugural "Keep Your Hat On This Race Season" event could be cool and sophisticated—or it might get wild and funky.
La Costa has a historical connection with the Del Mar Racetrack. A lot of folks choose to stay at the proximal property for the track's Opening Day (July 22 this year). Many over-the-top, oversized-brim hats worn by the grand dames attending Opening Day wind up back at the resort.
If on-property retailers have their way, many of those oft-outlandish hats will also be born at La Costa. From 10 a.m. to 6 p.m. on July 18, Audrey's Closet and Audrey's Etc. boutiques will set up tables on La Costa Plaza. They'll have a designer from San Diego Hat Company on hand to help ladies pick out the right hat, as well as accessorize it.
"We have eight shops nearby that sell things like scarves, jewelry and other embellishments, and the designer will offer design assistance," said La Costa marketing director Denise Chapman.
Sure, but what if you bring Barbie Dolls, plastic horses and two pounds of rainbow glitter—can that all be turned into a hat that fits your personality?
"It could get whimsical, yes," said Chapman.
It doesn't seem likely a "Nine ½ Weeks" recreation will break out on La Costa Avenue this Saturday. Still—champagne will be served from noon-3 p.m.
Ron Donoho is a regular contributor to NBCSandiego.com and a contributing editor to sandiego.com. His Web site (sandiegoDTOWN.com) is dedicated to news, sports, culture, happy hours and all things downtown.