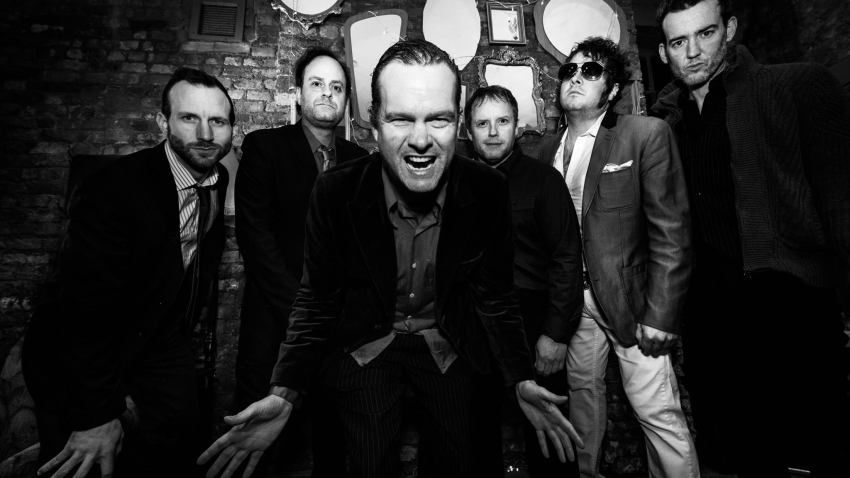 I don't know if this is one of those weekends when Los Angeles is packed with shows so we get them all the day before, but regardless, we should really take advantage when a big Thursday like tonight happens. Casbah welcomes back rockers Electric 6 who have come around in spring for the last several years, while Wet and Kilo Kish join forces at the Observatory North Park. New Me plays with our pals Nicely at Soda Bar, Galactic return to the Belly Up, and punkettes the Dollyrots play at Space. You've got lots of choices to kick your weekend off early so definitely seize the night.
[Ed. note: According to news and police reports, the two members of U.K. band Her's -- who were scheduled to perform a sold-out show at Soda Bar on Thursday -- and their touring manager have been tragically killed in a deadly car collision early Wednesday morning while en route from Arizona to California. More information is available here. The Soda Bar show has been canceled. The band's label, Heist or Hit, has released a statement.
"It is with overwhelming sadness that we regretfully inform you that Liverpool band Her's, Stephen Fitzpatrick and Audun Laading and their tour manager Trevor Engelbrektson tragically passed away in a road accident in the early hours of Wednesday, 27th March whilst travelling to a show in Santa Ana, California.
We are all heartbroken.
Having recently released their debut album "Invitation to Her's", Stephen and Audun were on their second tour of North America playing 19 dates of sold-out shows to a fanbase that adored them. The pair were one of the UK's most loved up and coming bands.
Their energy, vibrancy and talent came to define our label. As humans, they were warm, gentle and hilarious. Each time they stopped by the office made for an uplifting experience. To say they were close would be an underestimation of a friendship that was genuinely beautiful to witness; they loved one another like brothers. Musically, Her's were astonishing. An aptitude for melody, fun, and entertainment combined with a complexity that was as sophisticated as it was stylish. They were in America playing to thousands of adoring fans. Fans they made a point of meeting and spending time with, such was their passion and humbleness. The world was at their feet. Everyone here at the label is overwhelmed and distraught. We have lost our friends and the world has been denied their talent. – Heist or Hit (Mick Scholefield, Martin Colclough & Patrick Fogarty)
Our thoughts and prayers are with the families of Stephen, Audun and Trevor, please respect their privacy at this extremely difficult time."]
Thursday, March 28:
Gorilla Biscuits, Fury, Dare, Soul Power @ The Irenic (SOLD OUT)

Her's, the Undercover Dream Lovers @ Soda Bar (CANCELED)

Electric 6, DaveTV, Scary Pierre @ Casbah
Wet X Kilo Kish, Helena @ The Observatory North Park
New Me, Nicely, DJ Dunekat @ Bar Pink
Galactic ft. Erica Falls, Con Brio @ Belly Up
The Dollyrots, Go Betty Go, the Touchies @ Space
Noche de Perreo with DJ Tony V, DJ Young O, DJ Refresh @ House of Blues
SWMRS, Beach Goons, the Regrettes @ Music Box (SOLD OUT)
A Side of Beans @ Riviera Supper Club & Turquoise
The Low End (techno, house, electro) @ Blonde
Angel Du$t, Bugg, Skourge, Result of Choice @ Voodoo Room, House of Blues
Will Dailey @ Lestat's
The Accused A.D., Forest Grove, Endless Nameless, Dark Visions Of Terror @ The Merrow
Night Ranger @ Sycuan Casino
BLAH Jazz Thursdays @ Blind Lady Ale House
DJ Chuck aka "Big Country" @ Humphreys Backstage Live
Corrosion: A New Wave Darkwave Dance Night ft. DJ Wenzo @ Manhattan Bar
Jesse Ray Smith @ Wildwood
Leslie Jordan in "Exposed" @ Martini's Above Fourth
Jimmy Ruelas @ Seven Grand
Open Jam Session @ Winston's (6-9 p.m.)
DJ Beatnick @ El Chingon
DJ Dougie Frosh @ Rosie O'Grady's
Pink Talking Fish @ Winston's (9 p.m.)
No Limits with DJ Myson King @ The Office
Bill Caballero Latin Jam @ Border X Brewing
Electric Mud, MDRN HSTRY @ Moonshine Beach
The Loosen Up with DJ Mane One @ El Dorado
Fast Heart Mart @ Nate's Garden Grill
Brand X, Pet Shark @ Ramona Mainstage
Open Jam with Jeff Ousley @ Navajo Live
The Rockin Aces @ Tio Leo's
Sundance Band @ Renegade
DJ Yodah @ Henry's Pub
Rosemary Bystrak is the publicist for the Casbah and writes about the San Diego music scene, events and general musings about life in San Diego on San Diego: Dialed In. Follow her updates on Twitter or contact her directly.