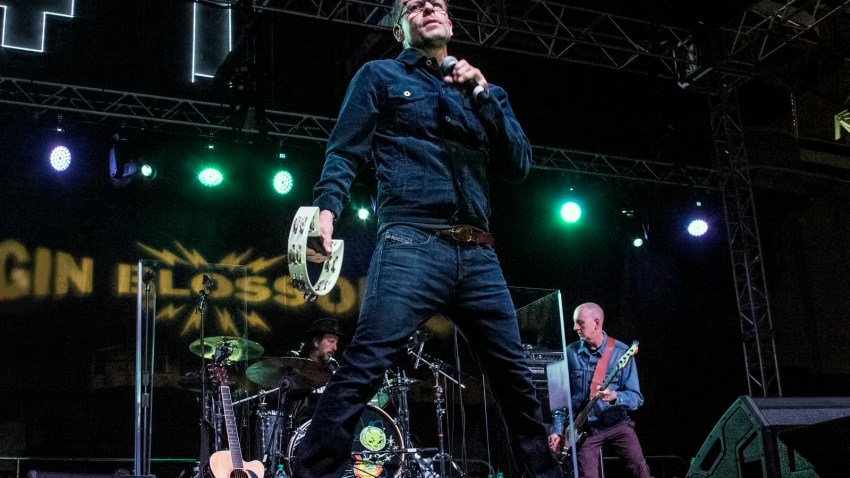 I've said it before and I'll say it again: Gin Blossoms are one of the most underrated rock bands in the last 30 years. Sure, plenty of folks remember their rise to fame in the early '90s with the inescapable radio singles "Hey Jealousy," "Found Out About You" and "Til I Hear It From You" (hearty shout-out to its classic cult film counterpart "Empire Records) but not nearly enough people have delved deeper into the band's six-album catalog.
In fact, the Tempe, Arizona band's latest effort -- the eight-years-in-the-making "Mixed Reality" [buy/listen to it here] -- seemingly picks up right where the closing notes of "Cheatin'" leave off on their '92 career-making record "New Miserable Experience."
"That's a fine compliment," the band's frontman Robin Wilson replied, when we spoke over the phone recently. "And I would agree. I see this new album as a companion to 'New Miserable Experience' and I know personally that I felt very connected to a younger version of myself, and an earlier version of Gin Blossoms, when I was writing these songs."
Indeed, the new album feels like a fresh start for the band, who frequently get relegated to "'90s-rock nostalgia" status simply because they came up during an era when one-hit alt-rock wonders were all the rage. Guilt by association, you could say. Recent tours have found them sharing stages with Tonic, Lit, Sugar Ray, Marcy Playground, etc. Wilson admits he understands why they're included with that crowd, and he actually embraces it, but unlike some of those acts, Gin Blossoms have always maintained a respectable credibility.
"Plenty of our peers, groups from our generation that we're good friends with and toured with, sometimes they're the butt of jokes, you know?" Wilson said. "And we've somehow survived with our credibility intact. I'm extremely grateful for that. I guess it does come down to us maintaining our code of ethics.
"A prime example of that is last year," he continued. "I was offered an opportunity to do a show in Vegas -- a regular Las Vegas gig with some other singers, and we would have like a house band and we were expected to perform our hits, and I said 'I can't really do it like that. What I can do is I'll play acoustic guitar and play covers and do my own little 20-minute acoustic set in the middle of that and I'll just do whatever I want,' and they said, 'No, you have to perform with a house band and you have to do Gin Blossoms hits.' And I said, 'I won't do that.' I won't do that because I think it'll ruin some of my own personal credibility but I also can't do to my bandmates. Take time away from the band to go make money off the band's music without them? It's just not something I could do. That decision comes down to our feelings about each other and our sense of [the band] being a real group and not just one guy's band and one guy who runs the whole show."
Maybe the most endearing thing about Gin Blossoms is that they've always been underdogs from the very start: Their original ace songwriter, Doug Hopkins (responsible for "Found Out About You" and "Hey Jealousy"), had been kicked out of the band due to his dehabilitating alcoholism just as "New Miserable Experience" was taking off -- and afterward tragically committed suicide in 1993. During their meteoric rise, ensuing turmoil within the band robbed them of most of the satisfaction that should've come with such huge commercial success. Twenty-five years later, they seem to finally be enjoying it.
"We're in the early phase of our third act as a group and it's looking pretty good," Wilson said. "We kept the band together, we've maintained our credibility, we can do really good shows -- we're at the top of the mid-level. And please quote me on that. [Laughs] Back at the top of the mid-level! We're doing shows at a higher level than we were a few years ago. We're still a viable group that gives a s--- about our legacy and continues to live up to it."
In a strange way, Gin Blossoms have come full circle with "Mixed Reality" -- and in doing so, have also brought an old, long-lost friend back into the fold, even if it's in a rather intangible, ethereal way. "Face the Dark," one of Wilson's compositions on the new album, was written with Hopkins in mind, if not in spirit.
"Originally, I thought I was writing about the end of my marriage but I realized when it was done that it sounded more to me like I was singing the song for Doug Hopkins," the singer explained. "Either something that he would've wanted to say, or something he might've felt. Or maybe I'm singing to him, I can't really tell. But I definitely feel that the music and the lyrics are connected to Doug and my memories of Doug. I guess in a way, I was channeling him a little bit. For sure, I was trying to impress him. And he was very difficult to impress as a songwriter. [Laughs] He was pretty snobby and when I first joined the band, he didn't much like playing my songs and competing with him was really difficult. So I felt with this song, I turned in something that even he would have to roll his eyes and say 'OK, that's a pretty good song.'"
Gin Blossoms perform at Humphreys Concerts by the Bay on Wednesday, Sept. 12, with Big Head Todd & the Monsters. Tickets are available here.

Dustin Lothspeich is a San Diego Music Award-winning musician, an associate editor at NBC SoundDiego since 2013, talent buyer at The Merrow, and founder of the music equipment-worshipping blog Gear and Loathing in San Diego. Follow his updates on Twitter or contact him directly.