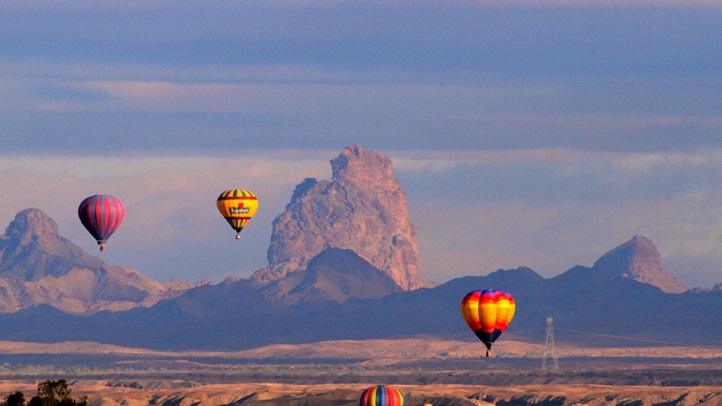 IT IS VERY TRUE... that Yuma can be on the toasty, throw-on-a-tank-top-and-little-else side, for several months out of the year, thanks to its ever-present sunshine and its desert-snug setting. But to think that Yuma lacks in a glorious autumn is to not know the historic Arizona burg all that well. Like many cities set in an arid clime, among cacti and scrub and mountains, the fall of the year can be exquisite. It's not leaf-changing chilly, of course, which is not a problem, as there aren't all that many leaves around, but it is that perfectly soft temperature, especially in the mornings, that only the desert can deliver around November. It's a feeling that's a bonus to all the beauty that comes along with the Colorado River Crossing Balloon Festival, an annual happening in the area that brings out the pilots, people longing to ride, and those on the ground who are content to turn their cameras to the sky. The colorful envelopes, and the gondolas below them, are set to rise, rise, rise again over the weekend ahead of Thanksgiving, which is...
FRIDAY, NOV. 20 THROUGH SUNDAY, NOV. 22: The three-day gathering, which marks its 25th year in 2015, is one of the biggest balloon to-dos in the Grand Canyon State, thanks in large part to a mass ascension every morning. Surely you know the term "mass ascension," even if you haven't attended a balloon festival before? It's when all the balloons in attendance, or pretty much most of them, at least, go up, if not all at once, then in a few waves. The result? The sky is soon dotted with stripes and animals and symbols and bright hues. But shutterbugs who dig a good balloon bash know that the clouds and wide open blue aren't the only backdrops for the high fliers; the Colorado River and surrounding mountains also make for some stunning, social media-worthy images.
OTHER HAPS DURING THE WEEKEND include a Balloon Glow -- ohhh, pretty illuminations after nightfall -- and tether balloon rides, should you want to go up, but not too far up. The celebratory spirit of the early part of Thanksgiving week, paired with that aforementioned perfect fall temperature, makes this Yuma-tastic balloontacular one of the jewels of the desert. Mountains, sky, fall, balloon -- what else is there, really, to please the eye and heart?
Copyright FREEL - NBC Local Media