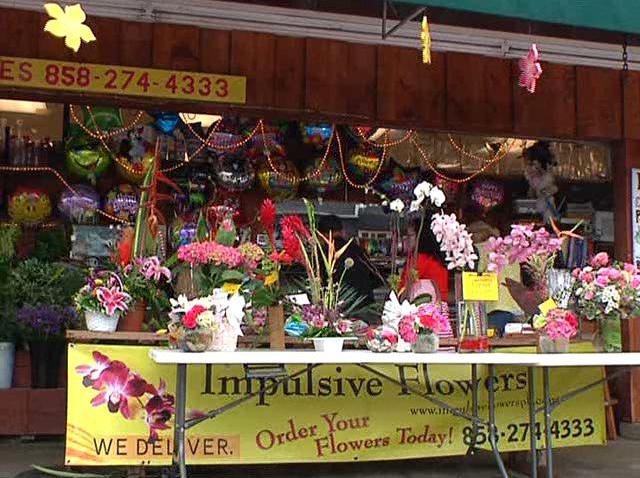 It's Mother's Day... did you remember to buy mom some flowers? If you wait until the last possible moment to file your taxes or do your holiday shopping, then chances are you're probably still trying to figure out what to get mom for her big day.
It's a rare woman who doesn't appreciate a beautiful bouquet or gorgeous arrangement. So maybe that's what you get every year and even though you promised yourself last year that "next year would be different" here you are, it's next year and you need a gift, now.
Procrastinators seemed to be in 'full bloom' Saturday at one Pacific Beach flower shop. 'Impulsive Flowers' sees their business triple on Mother's Day weekend. The owner of 'Impulsive Flowers' says it's also been a busy time for flower deliveries.
"This year, we've gotten a lot of deliveries, 40 deliveries yesterday (Friday) and we have over 100 deliveries today (Saturday)," said Kim Kittinger of Impulsive Flowers. "Sunday we don't have any deliveries, so that's good because all the people come walking in here."
Kittinger also says that Mothers Day, Valentine's Day and Easter are the busiest times of year. Though she says, because of the economy, many of the purchases this year have been for bouquets under $20.
So, what are you waiting for? But wait - before you run out and think you're doing your best by picking up flowers at the local grocery store - think about it, this is where you buy your everyday items, is it really where you want to buy that special gift for one of the most special people in your life?
Basically, You can hardly drive a mile in any direction without seeing a flower shop or stand - so get shoppin'!
And, for all you guys out there that need a little help finding the perfect arrangement, check out The Man's Guide to Flowers.