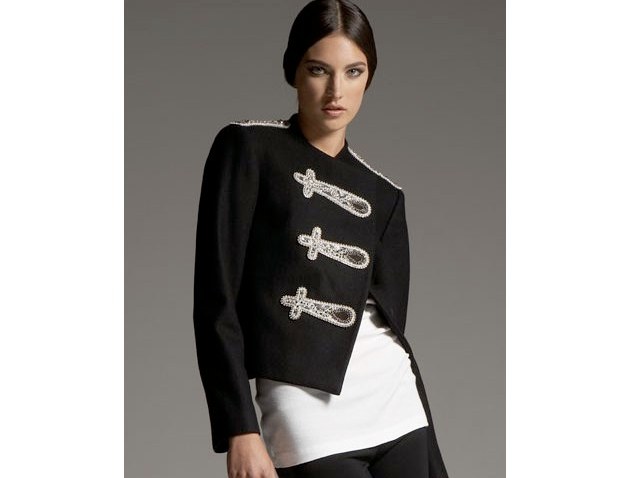 Women:

JACKETS: One of the most coveted looks of the season involves structured jackets with military detailing. The Alice + Olivia Shrunken Military Jacket pulls this off perfectly with its slightly cropped length, boxy fit and chest plackets, while Arden B uses brass buttons and a fitted waist to show off its rendition.

TOPS: To infuse some military style into your upper layers, pick up shirts and sweaters with strategically placed pockets and shoulder details. Express's Essential Stretch Military Shirt looks sharp yet feminine in blue or black, and the City Style Military Cardigan from New York & Company shows off fall's shades in a sweet, cropped button-up sweater.

DRESSES: For the ultimate contrast, flaunt your military style with a skirt. Charlotte Russe's Military Button Pencil Skirt features a cummerbund-like waistline and stud detailing at the hips and the pockets. For an all-over effect, Baily 44's Military Trim Dress flatters with an A-line cut, front plackets and braid details at the hip.

SHOES: Military-inspired footwear doesn't have to mean chunky boots and wellingtons. Look for subtle details like the studded suede cover on Steve Madden's Binbolo boot, or the embroidered placket detail of Oscar de la Renta's Military Bootie.

Men:

JACKETS: Your outerwear is an easy place to incorporate military style without looking like you're in uniform. Try the Life/After/Denim Plaid Military Blazer at Urban Outfitters for a crisp yet casual look, or go dressier with a slimmer silhouette like the one found in the Self Jersey Blazer in deep olive at Topman.

TOPS: Get that just-got-out-of-flight-school look with a top that incorporates trim tailoring and subtle straps. The Dolce & Gabbana Military Shirt is unmistakably sharp in thin pinstripes and slim fit, while the 7 Diamonds Poetic Drama polo is a more casual take on the look.

BOOTS: Give yourself permission to slip on a pair of snug-fit boots under or over your jeans. The Campbell Military boot from Ryan Rowe has a subtle polish while staying down to earth with contrast stitching. A chunkier option can be found in Danner's Uniform Boot, which stays interesting with low-stiched laces and keeps you warm and dry.