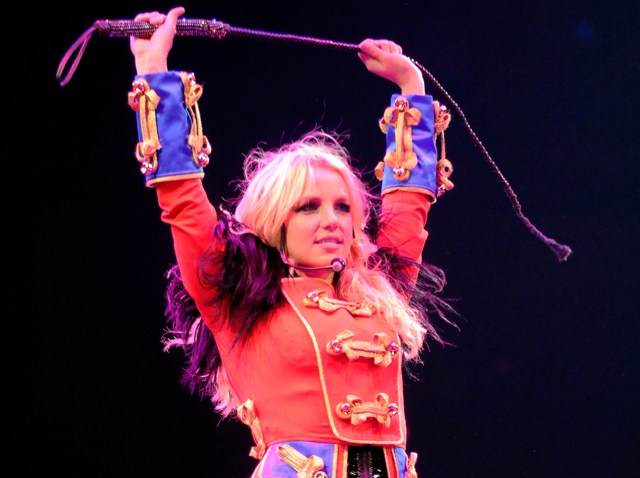 Britney Spears took the stage Thursday in San Diego and the consensus from people we talked to about the concert was pretty much the same.

"It was great dancing, great showmanship. But the whole thing was lip-synced, which was to be expected," concertgoer Tina Antoine said.

The Circus Tour stepped into the ring at the Sports Arena. It was Britney's third time performing at the Midway District venue.
POST YOUR PICTURES FROM THE CONCERT TO "SO SAN DIEGO"

Some of the tabloid goddess's littlest fans were offered a great deal to see her San Diego show. Children under the age of 2 got in for free if they sat on Mom or Dad's lap.

The concert was a hot topic on radio stations this morning, including on AJ in the Morning on 94.1. Geena the Latina, Delana Bennett and young Tanya went to concert Thursday night.

"I saw a lot of kids at the Britney concert and I was wondering who would pay for a two year old to come to a Britney show? Now it all makes sense," Delana told NBCSanDiego. "Great idea for a promotion, because a lot of young moms love Britney. Even if she did do a little lipsyncing!"

Twitter was all a flutter Thursday night and Friday morning. Here is a sample of what people were saying about the concert.
@ mlemos77 The wife survived the Britney Spears concert. Not as much oomph as saying you survived a Slayer show, but Brit is edgier these days, so...
@ The Britney Spears concert was....... so freaken bomb!!!!!
@ jamiedoll3 - I can't believe I paid 10 bucks for a beer last night at the Britney concert. And I got 3!
@ emthothead: Can you believe I just came home from a Britney spears concert? Too old, I'm just too old. But was fun.
@ alias_6375: Britney spears concert tonite! It was awesome!
@ Jasonalbi I went to a Britney Spears concert last night. Uh-mazing.
@ marisol73: @ the Britney Spears concert rite now she's freaking Amazing
Want to follow the tour? Next stop: Two nights in Vegas, then, after about six weeks, it's on to Oz for the rest of the circus.
You can join the conversation by following us on Twitter @ NBCSanDiego (#NBCSD) or become our friend on our Facebook page, NBCSandiego.com. We promise not to send you those annoying RSS feeds most news organizations insist on sending out. Instead, we want to share things that impact you or ask for your opinion on interesting topics.