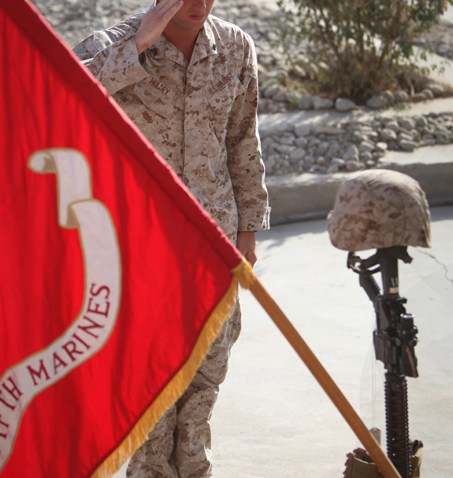 It is the part of combat that no amount of training could ever prepare him for.

"My friend is gone and it seems that no matter what I do, the pain in my heart won't go away," said Cpl. Jeffery Holsey during a memorial service held for Lance Cpl. John Sparks at an outpost in Helmand Province, Afghanistan. Portions of Holsey's speech at the service were quoted in an article posted online October 17th by Marine Corps Public Affairs Officer Cpl. Daniel Blatter.

Lance Cpl. Sparks, a 23 year old machine gunner assigned to 3rd Battalion, 5th Marine Regiment (3/5), was shot and killed during a mission on October 8th. Cpl Holsey was his team leader, roommate, and friend. "He was always laughing," Holsey was quoted as saying, adding that Lance Cpl Sparks, a Chicago native, made it a point to stay positive no matter how difficult the situation. "He never let the troubles of the world get him down."

Lance Cpl Sparks' memorial is the first of several services to be held honoring the lives of 10 members of the 3/5 killed in combat beteween October 8th and October 16th.

Cpl. Justin Cain, 22, of Manitowoc, WI., Lance Cpl. Phillip Vinnedge, 19, of St. Charles, MO, Lance Cpl. Joseph Rodewald, 21, of Albany OR, and Pfc. Victor Dew 20, of Granite Bay, CA were killed when their patrol convoy was hit by an Improvised Explosive Device (IED) on October 13th.

The next day three more Marines were killed in action. Lance Cpl. Joseph Lopez, a 26 year old rifleman from Rosamond, CA died during an IED attack. Lance Cpl Alec Catherwood, a 19 year old from Byron, IL and 21 year old Lance Cpl. Irvin Ceniceros, from Clarksville, AR both died from bullet wounds.

Oceanside, CA resident Lance Cpl. James Boelk was killed by an IED blast during an operation on October 15th. Sgt. Ian Tawney, a 25 year old squad leader from Dallas, OR was killed by an IED on the 16th.

According to a 1st Marine Division spokesman, many of the recent deaths have occurred in the Sangin area. Southern California based Marines and Sailors assumed authority over combat operations in the Sangin district from British forces this summer. The two nations are still performing joint operations in the area. According to Department of Defense press

The names of the 10 fallen members of 3rd Battalion 5th Marine Regiment will join 96 others on new memorial at Camp Leatherneck, the major base of operations for Marines in Helmand Province. The monument pays tribute to the lives of Marines, Sailors and coalition service members killed in combat operations since the Camp Pendleton based 1st Marine Division (FWD) assumed authority there in late March.