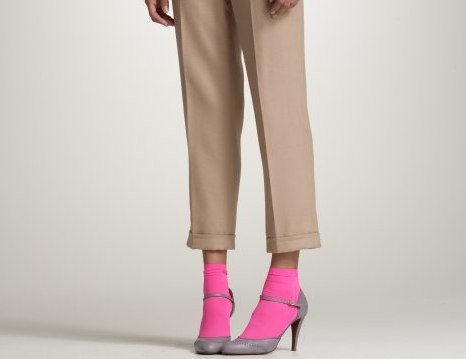 HARD WEAR: The '80s loved its chains and zippers, and now so can you. Find garments with creative applications of both, such as the MM6 by Maison Martin Margiela zippered mini skirt or the nautical inspired Deena & Ozzy Tiger Belt.

GET IN SHAPE: Geometric shapes will add a touch of this decade to any outfit. Look for prints with bold circles, triangles, squares or lines like the ones found on the Silence & Noise Printed Silk dress, or try on a pair of edgy earrings like these Gold Pyramid and Mesh fishhooks.

BEACH BEAUTIES: Infusing some beach-inspired colors or prints easily adds impact and interest to your outfit. To play with color, try the Pink and Mint Tri Colour Timex for subtle hues or go bold with J.Crew's neon ankle socks. To stay a little more neutral with your beachwear, slip on the Yale Sunglasses at Urban Outfitters.

DO DRAMA: Structure was lacking from a lot of '80s style, replaced by dolman sleeves and artful draping. This Urban Renewal Peplum Dress draws a lot of inspiration from that movement with its loose sleeves and triangle-cut layered hemline, while the Jasmine Di Milo top from Elizabeth Charles is a more sophisticated spin on the look.

TIGHT BOTTOM: Tops in this look are almost always loose, so tight bottom layers should be used to add balance. Shiny tights like this Only Hearts pair work for day or night, while a tight mini such as the Arden B. Colorblock Bandage version can be made more casual with flats.

FULL-BLOWN FEMININE: Don't be afraid to go off the girl charts with prints and fabrics. Mesh overlays like the one on the TopShop Spot Mesh One Shoulder Dress look sexy and sweet, and loose florals like the ones on Arden B.'s Floral Tulip Skirt make it to work and back without a hitch.