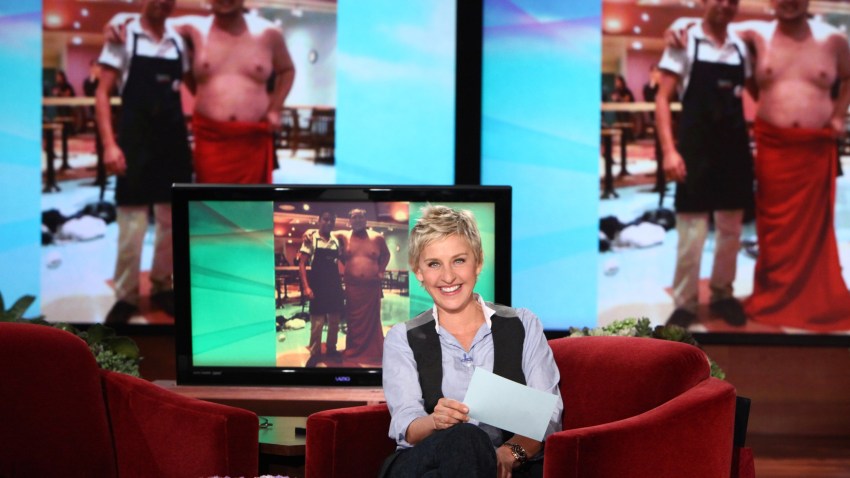 The challenge: Bring corn and take a picture in nothing but a red towel with someone in any kind of uniform.
Five lucky students at UCSD won a trip to Los Angeles Thursday evening during Ellen's Twitter Challenge, which drew a massive crowd on campus. They will attend one of Ellen's 12 days of Giveaway tapings, which puts them in the running for a big prize.
"Thanks for showing up and playing UCSD... game's over for now. Tell your friends to follow me on Twitter - it pays!" Ellen's last tweet said.
Ellen tweeted instructions throughout the day on what followers needed to do to participate. Here are her previous Tweets (to catch you up):
Students of UCSD: The first people to bring Aaron any kind of corn at the Price Center are in the running for an incredible prize.
UCSD-on your mark get set the games begin between 5:45 and 6! Go here now http://su.pr/1N4dDU
UCSD…USBWFMT! (University of California at San Diego: U Should Be Watching For My Tweets…today)
If you know what UCSD stands for, then you should probably be looking out for my tweets… (Sent Thursday)
Hey UCSD Tritons are you creative? Do you like prizes? Watch my tweets tomorrow. You never know what I'm gonna do!
I'm doing another Twitter game tomorrow, & the location is a big surprise. On an unrelated note: UCSD students-practice your surprise faces!
Followers: I'm having another Twitter challenge in San Diego tomorrow. Keep following my tweets-it pays off! (Sent Wednesday)
She typically asks followers to bring something unique to the location. The first ones to arrive have a chance to complete another challenge and win something big.
The challenge will air on Ellen on Monday at 3 p.m.
If you took part in the challenge, we want to know about it. You can follow us on twitter @nbcsandiego or on our facebook page NBCSanDiego.com. You can also post pictures to So San Diego. If you have an iPhone, sign up for our new app and post pictures directly to NBCSanDiego.com.