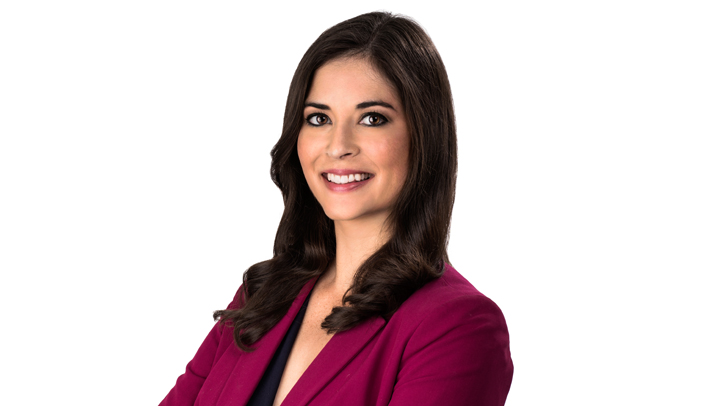 Elena Gomez is a San Diego native, born and raised in Vista. She knew she wanted to be a reporter from the age of nine, when she would produce her own newscasts with her younger sister in their family's living room, using the coffee table as a news desk. That knowledge along with determination and ambition served Gomez well throughout the formative years of her career as a journalist.

Gomez got her start at NBC 7 as an assignment editor intern in the summer of 2008. She graduated from Chapman University in 2009, with a Bachelor's in Television and Broadcast Journalism and minors in Public Relations and Spanish. After graduation she worked as an editor for the NBC 7 News Today for over a year.
In September 2011, Elena earned a spot as a News Associate for NBC 7. She worked as a multimedia journalist in the program, where she shot, edited, wrote and reported daily stories for the evening newscasts. The News Associate program is a highly competitive program with a "fast-track opportunity for people with the goal to learn news gathering and production skills." She trained with top journalists in New York, Washington D.C. and Philadelphia along with 9 other Associates stationed at NBCUniversal Owned stations.
In her time at Chapman, Gomez received the "Most Promising Broadcast Journalist" award, one of the University's most prestigious honors for broadcast students. Another college highlight was her time spent abroad in Sevilla, Spain for 4 months, learning Spanish and traveling.
Throughout her college years and after, Gomez worked at KOCT: The Oceanside Channel. It's a PEG station covering everything from the city council to community events in Oceanside. There she experienced true hands-on-training by editing, writing, producing and reporting stories along with working as an assistant director, camerawoman and floor director for larger productions.

She received W.A.V.E and S.T.A.R awards for community reporting excellence and an award from the San Diego Society of Professional Journalists for producing an in-studio talk show. Currently Gomez is president of the San Diego-Tijuana chapter for the National Association of Hispanic Journalists (NAHJ). Under Elena's leadership, the group has hosted a District Attorney investigator at a meeting and received a behind-the-scenes tour of the Tijuana border by Border Patrol agents.

Watch Elena on NBC 7 News.
Drop her a line at: elena.gomez@nbcuni.com
Follow her at: @ElenaNBCSD