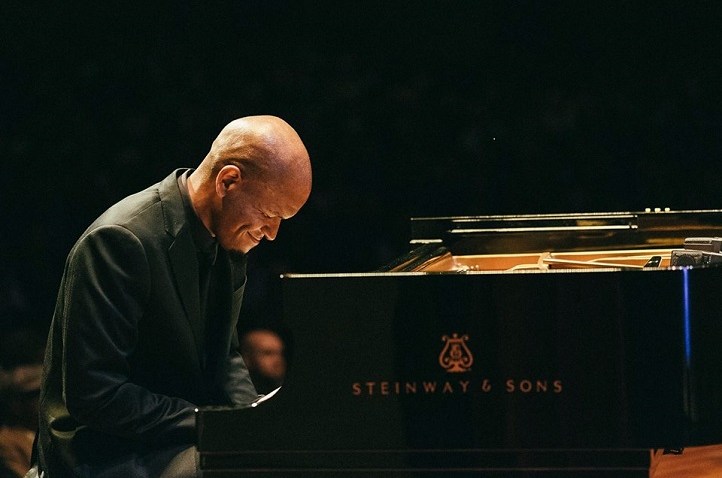 Trumpeter Gilbert Castellanos's latest collaboration with the San Diego Symphony for the excellent Jazz at the Jacobs series came off as a glorious success, with a sold-out performance of piano mastery celebrating the music of icons Bud Powell, Thelonious Monk and Art Tatum. The evening featured three of the finest pianists working in the jazz idiom today, including Eric Reed, Helen Sung and San Diego's own Joshua White, with the stellar rhythm section of Rodney Whittaker's bass and Willie Jones III's drums.
White began the concert tinkling lightly across the keys, like the sound of soft rain falling, to introduce Jerome Kerns's "Yesterdays," employing both fulsome harmonic approaches and abstract logic in building toward a 10-digit climax before seguing into Bud Powell's "Fantasy in Blue," which drew upon jagged, angular repetitions with all fingers flying through odd sequences as Whittaker pulled in the other direction with choice behind-the-bridge plucking.
The larger-than-life screen behind the musicians revealed White's huge hands did not lack for balletic coordination, employed gracefully on "My Ideal," which flowed inevitably from lush orchestration to splintered fragments almost instantaneously. It was a perfect fusion of beauty and power that referenced both Art Tatum and Cecil Taylor -- no mean feat.
Everything came to a boil on Monk's "Teo," where White's slabs of block-chords tugged against single-note alacrity over the precise cymbal pings of Jones, who also unleashed a devastating series of explosions in a thrilling solo.
Sung's set began with a much more literal distillation of Monk, tackling the knotty "In Walked Bud," at a furious tempo, dipping into the odd intervals and sparse clusters of the master while fully engaging the trio in a more conventional sense.
She chose, of all things, Chick Corea's "Armando's Rumba," to follow, and while the piece afforded her the opportunity to utilize some of her formidable classical chops (including the ability to extract a functionally brilliant sound from the instrument), it didn't make the best use of Whittaker, whose dark, meatier approach seemed at odds with the inherent flash and fluff its form implies.
Sung's interpretation of "Carolina Shout" spent a great deal of time focused on "Willow Weep For Me" before giving into the stride impulse, and "Please Send Me Someone to Love" served as an effective barrelhouse closer.
Eric Reed's set opened a cappella, with a totally inspired medley of gospel tunes, of which only "Holy, Holy, Holy" I could retain the title of, but in an instant, he turned Symphony Hall into a very ornate Baptist Church that rocked and swayed as he channeled everyone from from Bill Evans to Mahalia Jackson.
He engaged the trio for a thrilling blend of "Just You, Just Me" and Monk's "Evidence" (based on the same changes) that was brisk and confident, pulling Jones and Whittaker into his personal orbit as I'm pretty sure his fingers began to blur.
My favorite moment came on a show-stopping reading of Hoagie Carmichael's "Georgia," which tied the entire evening together, morphing classical technique with the gutbucket, stride, and maybe some Fats Domino, taking full advantage of the room and the moment and making a believer out of me.
As an encore, all three piano masters returned to rip through a medley that began with "Blue Monk" and ended with "Rhythm-a-Ning," with each player imbuing their own personal improvising stamp with exciting exchanges.
It was a wonderful finish to a superb evening of music.

Robert Bush is a freelance jazz writer who has been exploring the San Diego improvised music scene for more than 30 years. Follow him on Twitter @robertbushjazz. Visit The World According to Rob.