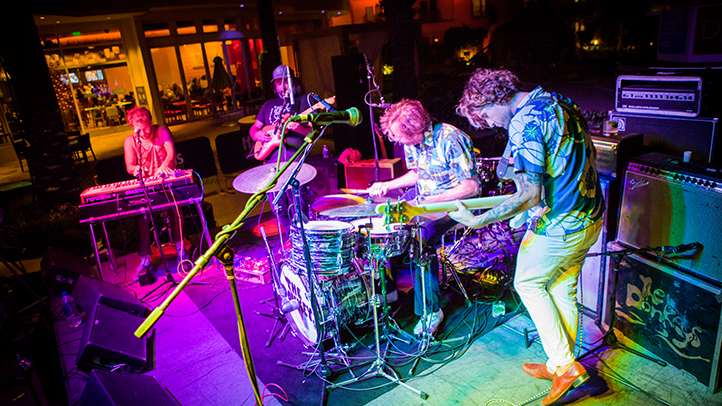 For those of us living in and around North Park, this is one of the best weekends of the year. University Avenue gets closed down between 30th and 32nd for the free North Park Festival of Arts. A couple of years ago, their permits were extended to allow for the music to run into the night, so today's lineup is extra awesome and packed with some of the best local talent you could ask for, including the Donkeys, Lady Dottie, Jake Najor and dozens more. The event is free and family friendly, though there is a stage in the Craft Beer block, and this year, there's a craft cocktail and karaoke area, too. If you have any fuel in the tank, Dream '19 continues for the second night at the
Casbah
, Eels play the Observatory and Ignite are at Soda Bar.
Saturday, May 11:
SDCCU North Park Festival of the Arts 2019 featuring the Donkeys, Euphoria Brass Band, Gregory Page, Tormenta Ray, Lady Dottie & the Diamonds, Souleil featuring Mark Quark, Mimi Zulu, Jake Najor & the Moment of Truth, Sure Fire Soul Ensemble, Marujah @ North Park -- University between 30th and 32nd (11 a.m.-10 p.m. Free. All ages. 21+ Craft Beer Festival and Craft Drink Garden)
Gator by the Bay Festival @ Spanish Landing (10:30 a.m.-8:30 p.m.)
Gator by the Bay Saturday Night Dance with Geno Delafose & French Rockin' Boogie @ Harbor Island Ballroom, Sheraton Marina Hotel
Dream '19 with Xeno & Oaklander, SRSQ, Chasms, Body of Light, the Victoriana @ Casbah
Eels, Robert Ellis @ Observatory North Park
Ignite, Implants, Square Shapes, Corporate Citizen @ Soda Bar
Fresh Sound featuring Bent Duo @ White Box Live Arts/Liberty Station
Jefferson Starship, Alex DePue @ Belly Up
Cirque du Soleil Volta @ The Grand Chapiteau, Del Mar Fairgrounds
DJ Old Man Johnson @ Bar Pink (2 p.m.)
DJ Mike Delgado @ Bar Pink (10 p.m.)
Booty Bassment with DJs Dmitri and Rob @ Whistle Stop
The Sibarg Ensemble & Mark Dresser, Hafez Modirzadeh @ Dizzy's
The Fleshies, Santa Ana Knights, Stalins of Sound, Russian Tremors @ Ken Club
Lila Downs @ California Center for the Arts, Escondido
Roger Clyne & the Peacemakers, Ryan Hamilton & the Harlequin Ghost @ Moonlight Amphitheatre
Queen Nation: a Tribute to Queen @ Ramona Mainstage
Bump: Underground Disco with Dazzla, Shige @ Blonde
Mad Hat Hucksters @ Panama 66
RedINation presents Buck O Nine, Sprung Monkey, T Irie Dread @ Music Box
Club Sabbat @ The Merrow (9 p.m.)
T-Dance with DJ Linny @ The Merrow (12 p.m.)
CaBEARet Comedy Night Fundraiser for Special Delivery @ The Merrow (5 p.m.)
Cowgirl Clue @ Che Cafe
Convergence/Convergencia @ California Center for the Arts, Escondido
CulturaFestSD @ California Center for the Arts, Escondido
Keep on Keepin' On: Justin Kauflin @ Museum of Making Music
The Powerballs, the Fractions @ Black Cat Bar
The Dave Gleason Band @ Grand Ole BBQ & Asado (5 p.m.)
Ozzmania, Up the Irons, Cowgirls From Hell @ Brick by Brick
Mango Bay @ Grand Ole BBQ & Asado (1 p.m.)
Large's Crazy Enough @ The Conrad Prebys Performing Arts Center
Lolo Zouaï: High Highs to Low Lows Tour, Jean Deaux @ Voodoo Room, House of Blues
Sophia Alone @ Martini's Above Fourth
Some Kind of Nightmare, Masteria, War Fever @ Tower Bar
Johnny Deadly Trio @ De Oro Mine Co.
Kayla Adams @ Moonshine Beach
Jared Blakke @ Moonshine Flats
Ripening @ Seven Grand
Digital Bath & Anesthesia @ Manhattan Bar
Flathead Six @ Winston's (2 p.m.)
Dom Katz @ Winston's (5 p.m.)
Electric Waste Band @ Winston's (9:30 p.m.)
Definition Lo-Fi House @ Til-Two Club
KTP & Friends @ The Rabbit Hole
Custard Pie @ Wildwood Crossing
The Petty Saints @ Himmelberg's
Strictly Business with DJs Heminguey & Gabe Vega @ The Office
Victor Baker @ Riviera Supper Club & Turquoise Room
Way Cool Jr., Big Rig Dollhouse @ 710 Beach Club
El Ritmo Global with resident DJ Viejo Lowbo @ Border X
Chloe Lou & the Liddells @ Rosie O'Grady's
Whiskey Ridge @ Renegade
UFC 237 Mama Junas vs. Andrade, DJ Bacon Bits @ U-31
Detroit Underground @ Tio Leo's
Wildside @ Humphrey's Backstage Live (9 p.m.)
Fabulous Ultratones @ Humphreys Backstage Live (5 p.m.)
Pop Vinyl, DJ Autumn @ V Lounge, Viejas Casino
Finesse, DJ Autumn @ Lobby Bar, Viejas Casino
Butts Ta Nuts with DJ Jason Waterfalls, Julz, Kev Mighty @ El Dorado
Shabazz @ Fluxx
Stay United with Audiojack & Uner @ Spin
Rockfest with Taz Taylor Band and Rattz Band @ Navajo Live (3-7 p.m.)
Yetep, Olmos @ Bang Bang
DJs & Dancing @ Henry's Pub
Rosemary Bystrak is the publicist for the Casbah and writes about the San Diego music scene, events and general musings about life in San Diego on San Diego: Dialed In. Follow her updates on Twitter or contact her directly.