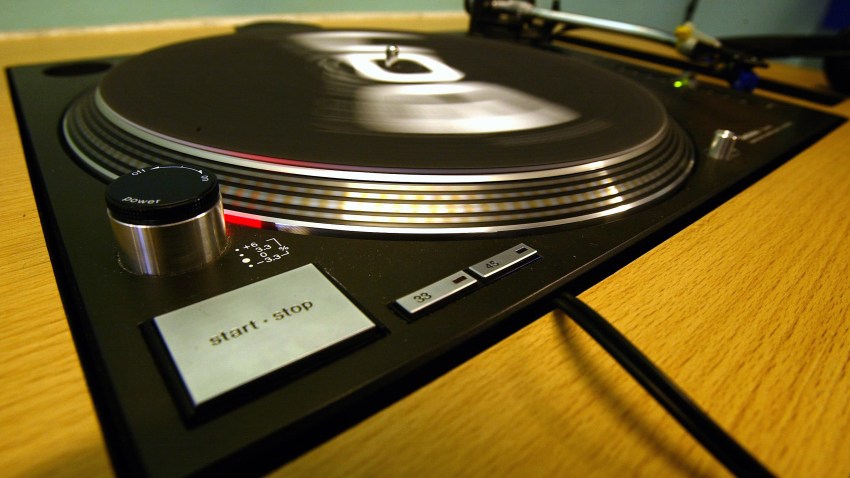 Laura Bolokoski, aka DJ Pnutz, recently released "B-Girl Breaks" on Spring Strut Recordings. Her debut for the label, it's an instrumental EP based around bouncy bass lines and old school hip-hop drums. [Listen to it here]
"Boogie Down Daygo" leads the way with syncopated hand claps and looping electric guitar. It's uptempo with vocal samples weaving their way around the track, part timekeeper, part phantom band leader -- shouting, "Clap ya hands, clap ya hands...everybody." Then there's the drums, hard and unrelenting, with traces of early DJ Shadow programming in the way they stutter -- all rolling snares and staccato kicks, like -BOOM -bip- bip- -bip -BOOM.
Track 2 delivers more of the same: heavy drums, high tempos and anonymous vocal stabs. But where "Boogie Down Daygo" rotates around a crunchy guitar riff, "Marianne" centers on a bright brass section, all high register and scorching horn samples. It's a knowing nod to rap music's past; a beat to break dance to, the backdrop for windmills in the modern era.
Pnutz closes out the set with "B-Girl BBQ." Four minutes of funk anchored by a lone chant, "bust a move." The arrangement stops and starts with momentum coming and going in quick pauses, like bursts of breath. It's a new school tweak on an old school style that sounds like an early '90s throwback -- Salt-N-Pepa circa "Let's Talk About Sex."
At only three tracks, "B-Girl Breaks" goes by fast, but the EP ends on an up note. "B-Girl Breaks" is a call to action with a ton of energy and drums that won't quit. It's an easy project to get into, with songs that are fun and a message that's simple: Dance.
With beats that sound like this, why not?

J. Smith, aka 1019, is a San Diego native, rap fan and one half of the rap duo Parker & the Numberman. You can follow him on Instagram at 1019_the_numberman or on Twitter