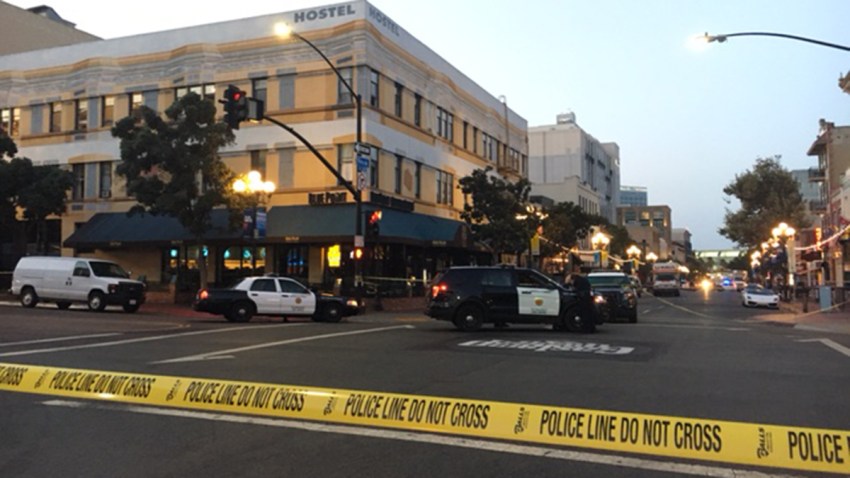 It's time to celebrate, and San Diego has the dance music movement on high alert as the Fourth of July lands on a Wednesday this year -- leaving us with a special week of events to preview!
Kicking off the holiday, San Diego gathers from Friday, June 29, to Sunday, July 1, at the Miracle Springs Resort & Spa for a weekend of splashing and dancing under the blazing desert heat. Hosted by Native Alien's Alien Tom & Red Sonya, the event features hotel style partying with an indoor and pool side stage and a wide range of artists including DJ Dan, Joe Pea, Norman H, Thee-O, Wes Smith and more!
The big weekend continues strong on Sunday, July 1, as the Deep End hosts a double headliner, double stage block party on the streets of San Diego in the Old Town area at 57 Degrees. Complete with live art installations, food trucks, multiple bars and a lineup featuring Catz 'n' Dogz and Doc Martin, you'll be treated to a fabulous experience all around. Stick around for the late-night show featuring special visuals by Lobstervision too! For the nighttime action, Moonlight Gangsters features an all-night party on the edge of downtown at El Dorado on Sunday night. The specialty venue that typically hosts a plethora of dance music events will host Matthew Brian, Memo Rex, Deep Tribe (Los Angeles) and myself, DJ IDeaL. Get there early and leave late with plenty of drink specials and the best of house music around town.
With just one day of rest for you weekend warriors, on Tuesday, July 3, the party continues (leading up to the main event) at the Music Box. Little Italy's magnificent secret invites you to celebrate the fireworks pre-party with plenty of house music to go around. JJ Flores headlines the night with support by Freshcobar, fresh off celebrating being part of a Billboard No. 1 hit -- and the man that needs no introduction to San Diego, Lavelle Dupree! Wednesday, the party continues for the main Fourth of July celebration. Expecting fabulous weather and plenty of options to soak in the sun by the beach, Space Yacht hosts a special San Diego Fourth of July edition rooftop party at the Hard Rock Hotel. Space Yacht has a secret lineup planned for this, so it's a must-attend party.
If you've made it to this point, the weekend still has options for you as it rounds off. On Thursday, July 5, a very special techno edition of Techniche lands upon Rich's San Diego. David Scuba delivers proper techno with a supporting lineup featuring Techniche resident John Vilotti and local sensation 2Bit! For those yearning for some more energy, a special event featuring Cazztek, Groove Cruise's Scotty Boy and more descend upon the Music Box. Cazztek has been on fire, having recently performed at this year's EDC Las Vegas, after which he was tapped by Martin Garrix to join him at his Ibiza residency this summer. If you've yet to catch one of his sets, you will not want to miss this show!
Closing out the special Fourth of July week of picks, Omnia hosts a very special show featuring Klingande. I first caught this guy at House of Blues in San Diego, and for anyone loving a good vocal house music show, it's highly recommended. Lastly, on July 7, we have a very special edition of the weekly French Kiss house music brunch event hosted by Pardon My French in Hillcrest. Legendary Donald Glaude joins the roster of brunchers for the daytime All Day Rose special that you can indulge in while listening to some proper house music beats.
Quite the week of options to party it up -- make sure to keep it safe and classy San Diego!
Sunday, July 1: Native Alien Contact 2018 (Desert Hot Springs)
Sunday, July 1: The Deep End Block Party with Catz 'n' Dogz and Doc Martin at 57 Degrees
Sunday, July 1: Moonlight Gangsters with Matthew Brian, Memo Rex, Deep Tribe and DJ IDeaL at El Dorado
Tuesday, July 3: JJ Flores, Freshcobar and Lavelle Dupree at Music Box
Wednesday, July 4: Space Yacht SD -- Hard Rock Rooftop Party (secret lineup)
Thursday, July 5: Techniche featuring David Scuba at Rich's
Friday, July 6: Cazztek at Music Box
Friday, July 6: Klingande at Omnia
Saturday, July 7: French Kiss with Donald Glaude and DJ IDeaL
Tomas Serrano, aka DJ IDeaL, is the electronic dance music correspondent for SoundDiego, covering the best of San Diego's electronic music events and culture. Follow his whereabouts on Facebook, Twitter or contact him directly.