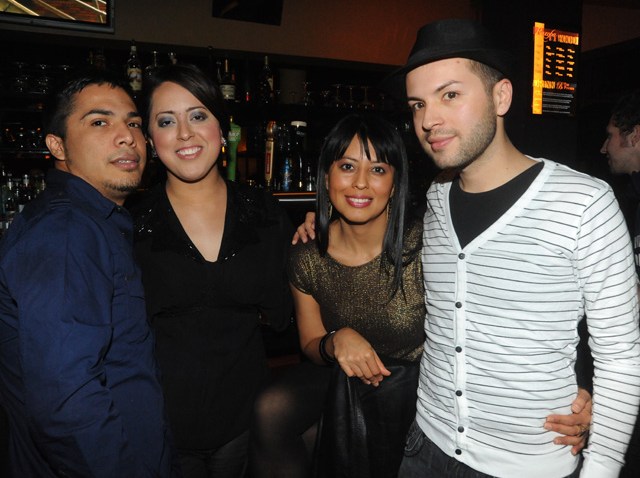 December -- a time that's supposed to be reserved for hot cocoa, rainy nights next to the fireplace, and waking up to winter wonderland white roads and snowball fights. Although that's nowhere in sight for us in sunny San Diego, the party forecast for the month of December isn't slowing down one bit with rumors of Gaslamp nightclubs reopening and lots of underground vibes growing, the city is chugging along as it prepares for the last big celebrations of 2015!
On Saturday, Dec. 5, Clique celebrates their two-year anniversary of their music and art showcases hosted at Spin Nightclub. As a collective of artistic individuals who have connected with the underground scene of San Diego, Clique's event will treat you to visual and auditory pleasures into the late night with a closing set by Halo tagging with Paulo. Winding down from a heavy weekend, Organized Grime will host their weekly Monday bass nights at AC Lounge, with special guest Synik on Dec. 7.
For the trance heads looking to decompress after Dreamstate's trance-tacular event, Dash Berlin jumps on the decks at Omnia on Friday, Dec. 11. Whether you are on the dance floor or popping bottles, come prepared to go on a voyage. The Vinyl Junkies Record Swap will be going on at the Casbah on Saturday, Dec. 12, as the special holiday edition event during the day, and DJ Harvey will be gracing San Diego's secret warehouse party celebrating Art of Sound's Six Year Anniversary party -- location to be announced as the party arrives with a guaranteed heavy dose of house, techno and underground vibes. For those seeking the heavier side of the warehouse fun, "How the Bass Stole Christmas" will be serving up tribal, techno, acid, breaks, garage, drum n' bass and more come Saturday, Dec. 19 -- location also TBA!
With New Year's falling on a grandiose Thursday, the celebrations counting down to the end of 2015 are kicking off in style at the Valley View Casino Arena. LED Presents hosts their annual three-day shebang featuring Borgore, Porter Robinson, Flosstradamus, Jauz, Hotfire, Marshmello, Mija, TJR, and many more at OMFG! 2016, open to all 18+ music lovers and running from 9 p.m.-4 a.m.!
For those that haven't experienced a hotel celebration yet, Infinity NYE hosts the other side of electronic music mega acts in town with Above & Beyond, Crizzly, Michael Woods and many more at the Town & Country Resort Hotel. If you've never stayed at a hotel for New Year's Eve, expect the ability to enjoy a relaxing time getting ready for the party, dinner with friends and then a safe and quick shimmy over to your hotel to pass out. For the hotel experience in the Gaslamp, Hard Rock opens its party doors with the party rocker Laidback Luke and E40, and other artists to be announced. Ekstre Records hosts a label showcase with bass, glitch, trap, tribal, hubby, midtempo beats at Kava Lounge for the alternate celebration. For those that "want to get away," jump on board the Moonlight NYE Cruise on the California Spirit departing from Harbor Drive while enjoying the music and a midnight kiss (should you be so lucky) under the stars. For the late-night warriors, "Sunrise is 4 Lovers" will be featuring "soultry" house music beats by Silky, Saand and Jimbo James at Analog Bar from 1-5 a.m.
If you're planning to stay in and celebrate with family and loved ones for New Year's Eve but still want to get that dance freak out of you, Lovelife will be hosting their New Year's Day boat party featuring very special guests and local sensations Dadon, Bruno Da Mata, and more on the Hornblower from 11 a.m. to 3 p.m.
With a forecast like that and even more events to come, San Diego keeps on proving why the city is on high alert in the dance music industry. Props to all who are pushing the sounds and the limits of what is being promoted and produced. No matter where you end up on the celebrations of the month, enjoy yourself and be safe!
Dec. 5: Clique Two Year Anniversary at Spin Nightclub
Dec. 7: Organized Grime Bass Music with Synik at AC Lounge
Dec. 11: Dash Berlin at Omnia San Diego
Dec. 12: DJ Harvey Warehouse Party -- Art of Sound Six Year Anniversary at location TBA
Dec. 12: Vinyl Junkies Record Swap Holiday Edition (free pizza day event) at the Casbah
Dec. 12: Dr. Fresch at Bang Bang
Dec. 17: Felix Da Housecat at Bang Bang
Dec. 19: How the Bass Stole Christmas -- location TBA
Dec. 29-31: LED Presents OMFG! 2016 with Borgore, Porter Robinson, Flosstradamus, Jauz, and many more
Dec. 31: Infinity NYE with Above & Beyond, Crizzly, Michael Woods at Town & Country Hotel
Dec. 31: Laidback Luke and E40 at Hard Rock Hotel
Dec. 31: Ekstre Records showcase at Kava Lounge
Dec. 31: Ashley Wallbridge at Omnia San Diego
Dec. 31: Moonlight NYE Cruise on the California Spirit, Harbor Drive
Dec. 31: "Sunrise is 4 Lovers" with Silky, Saand, Jimbo James at Analog Bar (1-5 a.m.)
Jan. 1: Lovelife New Year's Day boat party with Dadon, Bruno Da Mata and special guests on the Hornblower (11 a.m. - 3 p.m.)
Tomas Serrano, aka DJ IDeaL, is the electronic dance music correspondent for SoundDiego, covering the best of San Diego's electronic music events and culture. Follow his whereabouts on Facebook, Twitter or contact him directly.