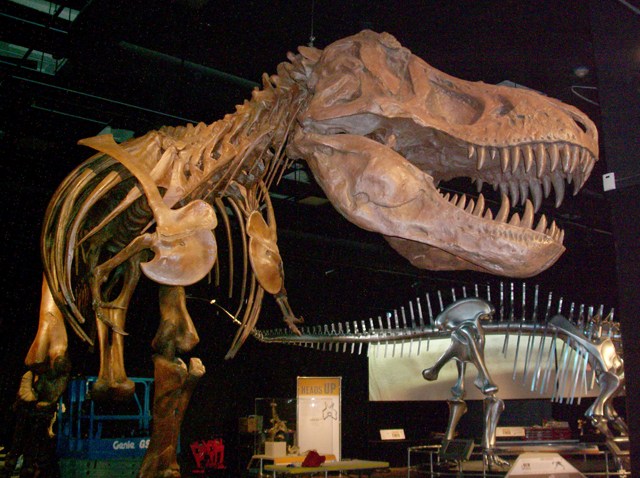 Dinosaur fans of all ages are about to be thrilled by a new exhibit opening Saturday at the Natural History Museum in Balboa Park.
Dinosaurs: Ancient Fossils, New Discoveries features a life-size skeleton reproduction of a T. Rex and a 60 ft. long model of an Apatosaurus tyrannosaur (commonly known as a "long neck"), as well as 35 different species of dinosaurs, reptiles, birds, and plants.
After viewing the full-size models and a 700-square-foot walk-through diorama -- an extremely detailed recreation of a dinosaur's environment -- museumgoers can check out the more hands-on portion of the exhibit. Various panels labeled Touch This, Move This and Watch This allow patrons to learn more about how the ancient reptiles lived.

A mechanical T. Rex that walks in place is on display as well, showcasing how technology makes the exhibit a success. Dinosaurs: Ancient Fossils, New Discoveries is hoping to change the public's perception of dinosaurs by highlighting significant new discoveries in paleontology and the use of new technology. Scientists are now using computer software and CT scans to achieve a better idea of how the intriguing creatures looked, ate, walked and lived their everyday lives.

Although Southern California is not a hot bed of dinosaur finds, fossils have been located in Point Loma, La Jolla and Carlsbad.
The show runs from March 27 through Sept. 6. Tickets are $12-16, with discounts for children, students, military, seniors and groups.