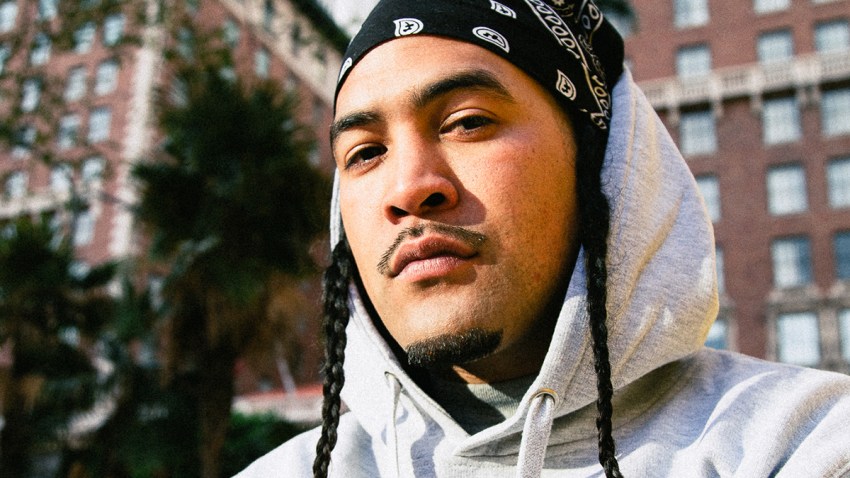 "EBT / The environment / Turned my n---- into a monster."
Those words, spoken by San Diego rap legend Mitchy Slick, opened Dezzy Hollow's massively successful 2017 single "EBT Boi" and set the stage for its powerful, sobering message impelled by the disproportionate poverty, unemployment, crime, incarceration and systematic oppression perpetuated on communities often made up by people of color.
That track (and accompanying music video) -- which paired its knifelike social commentary with the Oceanside rapper's crisp flow and a slow-burning, 808-heavy beat -- has received an aptly-titled follow-up on Dezzy Hollow's new full-length studio album "Fireside" (released on Feb. 22 via MadStrange/Empire Records).
Deftly expanding on the narrative and visuals explored in the the original, "EBT Boi II" (EBT stands for Electronic Benefits Transfer -- federal aid formerly known as food stamps) is another lament on the conditions, struggles and pitfalls facing the desperate, vulnerable, profiled and scapegoated -- who are often left with few opportunities to break out of a vicious cycle that has long kept disadvantaged communities down.
"I wrote 'EBT Boi' to tell a story about an environment where people are hungry and looking for ways to come up -- doing whatever it takes to make ends meet," Dezzy Hollow explained to HipHoxDX in the new single's April 17 online premiere.
"'EBT Boi' is a lifestyle, when you're desperate and running out of options you gotta find a way to adapt," he continued. "Creating the second 'EBT Boi,' I continued the story where it left off. Conditions haven't gotten any better, and there's the possibility that things could go bad at any time in search of an easy meal."
The Mexican-Pacific Islander rapper's poignant perspective offered on his EBT songs, as well as throughout "Fireside" and most of his output going back to 2015's "Soul Food Project," should be required listening -- not just for fans of West Coast-inspired rap and smart, surgical lyricism but anyone looking for hip-hop driven by a fearless, authentic voice.
Buy Dezzy Hollow's 'Fireside' album here and be sure to follow him on Facebook, Instagram, Twitter and SoundCloud.

Dustin Lothspeich is a San Diego Music Award-winning musician, senior associate editor at NBC SoundDiego since 2013, and talent buyer at The Merrow. Follow his updates on Twitter or contact him directly.