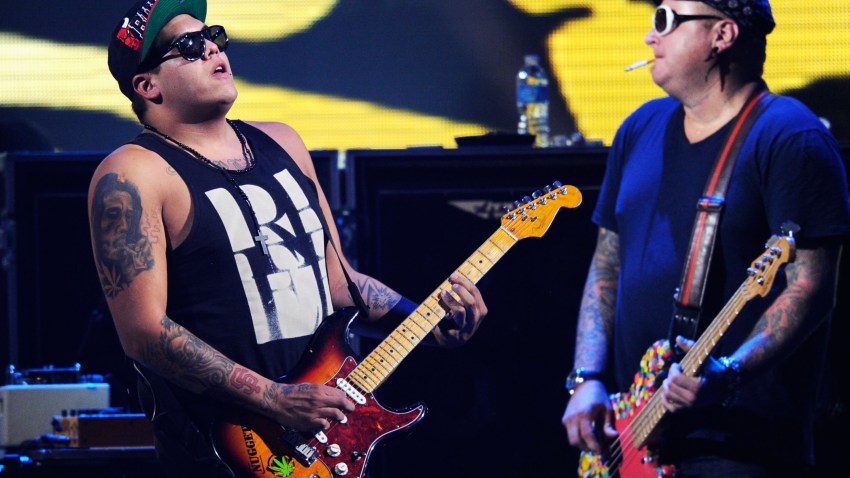 Just around the corner, opening day for the second annual Bing Crosby Season at the Del Mar Thoroughbred Club (DMTC) is Thursday, Oct. 29. And with it comes a mini concert series with some massive names.
Music fans who saw the likes of "Weird Al" Yankovic and Ziggy Marley this summer can start making plans for more tunes in the spirit of the latter: The red-hot Iration bring their infectious mix of reggae, dub and rock to the Del Mar Racetrack on Nov. 21, while the skate/punk/reggae sounds of Sublime With Rome will treat attendees on Nov. 28.
Iration originally formed in 2004 in Isla Vista, California, where the band (singer/guitarist Micah Pueschel, keyboardist Cayson Peterson, drummer Joseph Dickens, bassist Adam Taylor and engineer Joseph King) started out by playing mostly reggae covers. They released their debut EP, "New Roots," in 2006, and, after building a solid fan base through steady touring and incredible live performances, they embarked on their first national tour in 2008 with Pepper. With the release of Iration's sophomore album, 2010's "Time Bomb," the band topped the Billboard Reggae Albums chart. "Automatic," released in 2014, won worldwide critical acclaim, and just this August, fans got the latest taste of the band, "Hotting Up," which dropped digitally -- so needless to say, Del Mar will definitely be the place to be on Nov. 21.
With a stable of hits on constant radio rotation (including the massive new single, "Wherever You Go"), the Long Beach-based skate punk/reggae trio Sublime With Rome feature the original founding bassist of famed indie-reggae band Sublime, Eric Wilson. The band powers through their predecessor's beloved catalog with the same kind of fun and passion that Bradley Nowell and Co. did before his untimely death years ago. Rome Martinez, the group's charismatic lead singer, told us during a recent SoundDiego interview that their new album, "Sirens," might just be their best yet: "I'd like to say that 'Sirens' is the perfect evolution from our first record. We're stoked on it," he said. Concertgoers will certainly be in for this post-Thanksgiving treat come Nov. 28.
For more information, visit the Del Mar Thoroughbred Club's official website.