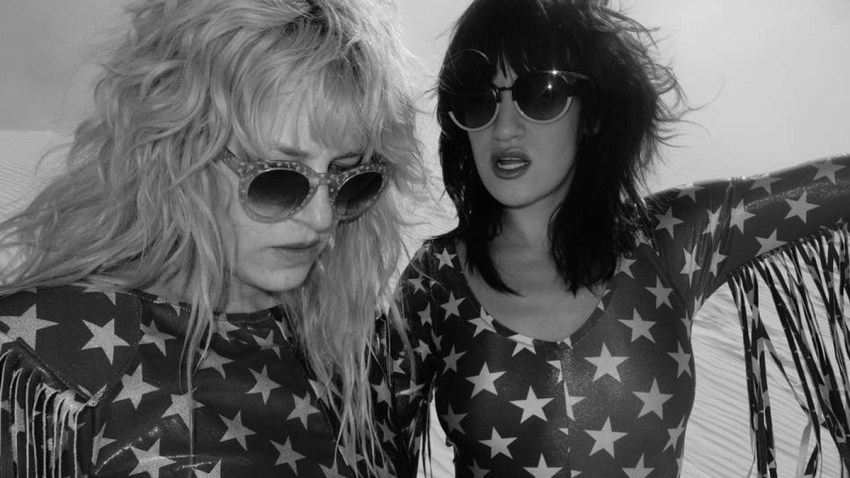 There are a host of great shows if you're looking to get out on the town this Tuesday night. At the Belly Up, Thievery Corporation make their annual pilgrimage. The trip-hop veterans never disappoint, whether they're out at one of our summer festivals or inside the domed roof of the Belly Up. DJ Z-Trip is a sight to behold and make it a great all-in show. Meanwhile, the ladies of Deap Vally return to the Casbah to tickle your eardrums; jazz and "Time and Tide" singer Basia plays Humphreys; and Billy Strings is the talk of the town, playing at Soda Bar. For you closet juggalos out there, I don't have to tell you that ICP makes an appearance at Brick by Brick. Bring on the Faygo!
Tuesday, Oct. 23:
Deap Vally, the Paranoyds, Low Volts @ Casbah
Thievery Corporation, Z-Trip @ Belly Up
Basia @ Humphreys Concerts by the Bay
Billy Strings, Clinton Ross Davis @ Soda Bar
Insane Clown Posse, Clownvis Presley @ Brick by Brick
Tim Pyles presents the Spider Ferns, the Sometimes Island, Grand Curator, Fairplay @ The Merrow
Sylvan LaCue, Khary and Treazon @ House of Blues
Tiki Tuesday ft. the Garners @ Bar Pink
Techno Tuesdays @ Blonde
Billy Watson @ Humphreys Backstage Live
The Corderman Detail @ Winston's (9:30 p.m.)
Vera Cruz Blues @ Border X Brewing
Open Mic by Bobo Czarnowski @ Java Joe's
M.A.S.S. -- Musical Artistry of Singers & Songwriters @ Winston's (5 p.m.)
Trapped with DJs Ramsey & guests @ The Office
DJ Lexicon Devil @ Pour House
Bass Music Tuesdays @ The Office
Lyrical Exchange Open Mic @ Queen Bee's
The Jazz Pockets @ Tio Leo's
Jesse & Joy, Making Movies @ Music Box
After the Smoke, the Drednotz @ 710 Beach Club
Open Open Mic Night with Ash Foster @ El Dorado
Rosemary Bystrak is the publicist for the Casbah and writes about the San Diego music scene, events and general musings about life in San Diego on San Diego: Dialed In. Follow her updates on Twitter or contact her directly.