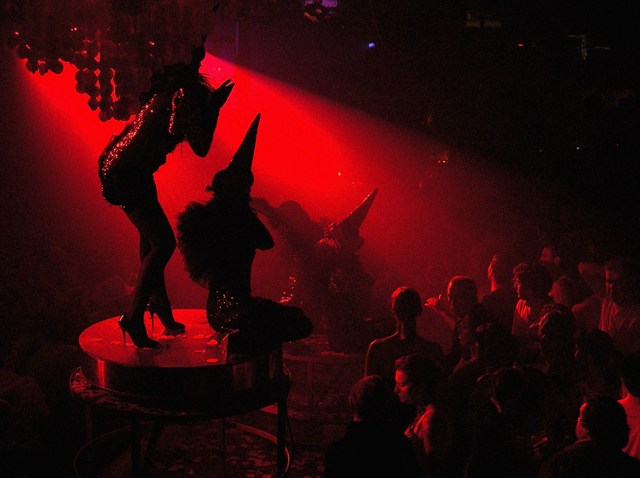 This is the first weekend in a long time that I'm not doing any DJ gigs. Come next week, though, things are going to be getting crazy for me. After all, Halloween is right around the corner, and I'll be celebrating my birthday, too. But for the next few days, I'm free as a bird. Hey, a Robin has to take a break every now and then, and I picked three great nights to do just that. I'm listing two events per night to check out. If I'm lucky I'll squeeze in even more. But for now, here we go:
Friday night, cruise over to Moonshake at Kadan. Some of my favorite DJs will be spinning. Mark E Quark, Dr. Indulgent and Bob Dazzla, plus special guest [a]pendics.shuffle. And if that isn't enough, Alex Villalobos (Absurd, Get Ugly) will be doing his thing. Get there early for a happy-hour set from the wonderful DJ Dubchops (Friends Chill). Then make your way over to U31 for Feel the Noise Birthday Party shenanigans with the very talented Mac. A stellar evening of music awaits you with DJs Lazer Beast and Gabe Vega. This will be a fun party!
Saturday, it's Fusion at the Kava Lounge, with a night of dubstep and hard electro. DJs Antwanic, Ener g an, Digital Punk, Mike Primal and Calypso featuring Pyracy will keep it dirty and grimy. Then check out Boys and Girls at El Dorado with GRUM, Eric Diaz, Adam Salter and ColorVision. If you've been to any bar or club playing indie-dance/electro in the last two years, chances are you've danced to a single or remix by GRUM. Happy birthday to James Norton, who will be celebrating on this night.
Hopefully you requested Monday off. If not, (in a quiet voice) you may want to call in sick. It's going to be a huge night at Voyeur Sunday. L.E.D. presents a charity event featuring a SPECIAL GUE5T, plus Tommy Lee & DJ Aero. Plus, Skrillex, Steve Duda, Sofi, and L.E.D. DJs Deth Hertz, Circuit Freq and Bareback DJs. Doors are open at 7 p.m., with early arrival highly encouraged, because you know it's going to be nuts. Early bird tickets sold out in less than two hours. By the time I turned in this blog, there was no "official" word on that special guest. Keep an eye out for more details and ticket info. Proceeds will benefit the Joseph Deleon Trust. Another huge event this Sunday night is happening at Fluxx LIVE, with DJs Gabe Vega and Adam Salter, plus performances by Dan Black, White Apple Tree and Lesands. Daydream Nation puts on these amazing parties, and this one will be co-hosted by MayStar ... added bonus. Go here for more info. What a great way to wrap up your weekend.
Better plan on having that extra cup of coffee Monday morning if you do make it into work.
For a more in-depth list of events in San Diego happening Friday through Sunday, check out my blog.
See you on the dance floor!