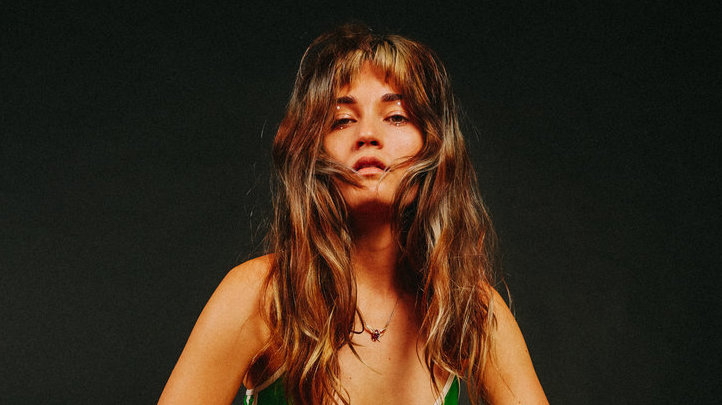 There are so many awesome events this weekend, so you should definitely get out and enjoy any of the numerous festivals around town, whether that's Old Town's Fiesta Cinco de Mayo, the Asian Cultural Festival in Mira Mesa or Rhythm and Brews up in Vista. By evening, you can take your tequla nap and then get out to continue the party. At Vinyl Junkies Record Shack, check out a very special polaroid show by Craig Wedren of Shudder to Think which covers his decades of touring and will also feature a live performance, or, head to Observatory for Chromatics. Casbah welcomes the lovely Lauren Ruth Ward with Laura Jean Anderson, and up-and-comer Omar Apollo plays a sold out show at the Irenic. The lineup all the way down the list is strong tonight and you should live up the weekend while we've got it.
Saturday, May 4:
Fiesta Cinco de Mayo @ Old Town State Park
Tacos, Tequila and Beer Festival @ NTC Park, Liberty Station
10th Annual Asian Cultural Festival @ Mira Mesa Park & Rec Center
Rhythm & Brews @ Historic Vista Village
Tacos & Tequila @ The Centre, Lexus Escondido
Craig Wedren Photo Exhibit & Live Performance @ Vinyl Junkies Record Shack
Omar Apollo, Ambar Lucid @ The Irenic (sold out)
Lauren Ruth Ward, Laura Jean Anderson @ Casbah
Chromatics, Desire, In Mirrors: Double Exposure Tour @ Observatory North Park
The Bassics, Creepseed, Gloomsday, Widow Made @ Soda Bar
Art Unites presents Eclectic with the Slashes, Nicely, Winlove @ Ken Club
Yngwie Malmsteen, Sunlord, Paralandra @ House of Blues
Frankie Quinones @ Balboa Theatre
Wayward Sons, Rockgarden @ Belly Up
Hocus, Kitty Plague @ Bar Pink (8 p.m.)
DJ Ratty @ Bar Pink (10 p.m.)
The Haunts, Lunar Hand, Street Surfers, Effe Emme, the Abstracts, Wizaerd @ Soma
Cirque du Soleil Volta @ The Grand Chapiteau, Del Mar Fairgrounds
West Coast Weekender Day 2 featuring Claptone, Carl Craig, Lee Foss, Purple Disco Machine, Miguel Migs, Harvard Bass, Cris Herrera, Eric Medina @ Viejas Concerts in the Park & Oak Ballroom, Viejas Casino
Ascension with DJs Robin Roth, Kaerie, Treston Maus @ Kava Lounge
Bass Summit 2019 @ Dizzy's
Vicky & the Vengents, the Carvels NYC, Babydoll Warriors @ The Tower Bar
Kelly Finnigan & the Atonements, the Higgs @ Winston's (9:30 p.m.)
Tyler Grant & Kellen Asebroek @ AMSD Concerts (Sweetwater Community Church, 5305 Sweetwater Road, Bonita)
Saint-Saëns' Organ Symphony @ Symphony Hall
Storm Large & Le Bonheur @ The Conrad Prebys Performing Arts Center
Coyote Music Festival 2019: Junipero, Dan Dimonte, Alex Lievanos, Kahlil Nash @ Cuyamaca College Campus
SoCal Etsy Guild Market San Diego @ Westfield Mission Valley
Soulection's rising DJs Sasha Marie and Sahar Habibi @ Space
Blonde 54: the Studio 54 Experience @ Blonde
Stand Back Blues Band @ Panama 66
Invasora 99.7 FM presents Canelo vs. Jacobs, Los Crecidos, DJ Gato @ Music Box
Creature Culture, Precious Kid, Belladon, Rain on Fridays, Lucid Dreams @ Che Cafe
Convergence/Convergencia @ California Center for the Arts, Escondido
Champagne Sessions Presents the House of Funk @ PB Avenue (1 p.m.)
Black Cat Wax all vinyl with Black Cat DJs @ Black Cat Bar
Film & Float -- Star Wars: the Empire Strikes Back @ The Lafayette Hotel, Swim Club & Bungalows
Lola Demure's Burlesque Variety Show: May the Fourth Be With You @ Voodoo Room, House of Blues
Sophia Alone @ Martini's Above Fourth
Falling Doves, Morning Crows @ De Oro Mine Co.
Batalla de Puebla Celebration @ Border X Brewing
Tristan Brooks, Natural Disaster, Madre X Mia @ Lestat's
Jerry Jacobs @ Moonshine Beach
The Matte Gray Band @ Moonshine Flats
Fuzz Huzzi, Shield of Snakes, Southtowne Sham @ Winston's (5 p.m.)
Wild Riot @ Til-Two Club
Reaction Phase, Alizarin, Sha Nova, In Apparition Form @ Brick by Brick
Disney on Ice presents Worlds of Enchantment @ Pechanga Arena
Flipside Burners with Taryn Donath @ Wildwood Crossing
Day Trip, Till I Fall, the Model Youth @ Himmelberg's
Bear Night San Diego with DJ Jon Williams @ The Merrow
May the Fourth Be With You @ Salty Frog
Strictly Business with DJs Edroc & Heminguey @ The Office
Baja Bugs @ Riviera Supper Club & Turquoise Room
Anesthesia, Soundslave (tribute to Metallica, Soundgarden, Audioslave) @ 710 Beach Club
Club Sandwich @ The Loft, UCSD
Little Joe Y La Familia @ The Events Center, Harrah's SoCal Resort
May the Fourth Be With Our Fundraiser @ Manhattan Bar
Blackcast, Fire & Flesh, the Arson Choir, Apex Alpha, Deathboys @ Legacy Brewing Co.
Scratch Acoustic Soul @ Rosie O'Grady's
Six String Outlaws @ Renegade
DJ Havok, Alvarez vs. Jacobs @ U-31
SantanaWays: Fiesta Pre-Cinco De Mayo @ Tio Leo's
Viva Santana @ Humphreys Backstage Live (9 p.m.)
Y3K @ Humphreys Backstage Live (5 p.m.)
Snails @ Bassmnt
Desert Hearts Decompression with Mikey Lion, Lee Reynolds, Marbs, Wyatt Marshall, Susio, Dink music, Hylas @ Spin
Fast Heart Mart @ Nate's Garden Grill
End of the World: Gungor, the Brilliance, Propaganda @ Ramona Mainstage
Joe Maz @ Parq
Afrobeat & Reggae SD @ XO Bar
Wax Motif, Hotfire @ Bang Bang
Cinco De Mayo Yacht Party @ Chere Amie Yacht
Nathan & Jessie @ Encinitas Library (7 p.m.)
'90s vs. 2000s @ Lair
Never Before Now @ Onyx Room
Serious Guise @ Navajo Live
Brees @ Fluxx
Wild at Heart, Vice @ Omnia
May the Fourth Be With You @ KO Underground
DJs & Dancing @ Henry's Pub
Rosemary Bystrak is the publicist for the Casbah and writes about the San Diego music scene, events and general musings about life in San Diego on San Diego: Dialed In. Follow her updates on Twitter or contact her directly.