The cast of NBC's prime time comedy "Community" woke up extra early on Day 2 of Comic-Con to talk about the upcoming season.

Heading into its fourth, and possibly final, season, the actors seemed just as cheerful as the characters on the show that pokes fun at community college life.
The cast and crew of "Community" assured fans at Comic-Con that the show isn't changing despite a shake-up in the administration.

Friday's "Community" panel at the pop-culture convention was the first opportunity for the NBC comedy's cast and crew to address fans since the show's creator, Dan Harmon, was replaced as showrunner by new executive producers David Guarascio and Moses Port.

Port told the crowd that the show about a wacky community college study group would continue to be a "weird, wonderful gem."

Get more coverage in our special section Comic-Con 2012.
Before greeting fans, cast members chatted with NBC 7 San Diego, and told us what they'd like to do in San Diego before leaving Comic-Con.
Joel McHale
"I want to go to one of the battleships, or the aircraft carriers. The Midway is great… You know, they should throw this in Tijuana next year. It would really be a different conference. But San Diego, what a beautiful city."
Alison Brie "Streaking on the beach!"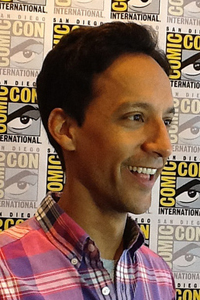 Danny Pudi
"The problem is I won't be able to do anything since I leave right after this, but last night I had dinner in Little Italy. I always try to make sure I go there … especially a little place that makes homemade pasta that I love. And usually when I'm in San Diego I like to go for a run along the harbor."


Gillian Jacobs
"The one thing I want to do in San Diego besides Comic-Con is go to the…gaslight district? Gaslamp District. I knew I was going to say it wrong, but I knew it involved gas."


Yvette Nicole Brown
"There's a fish place called Tinfish that'd like to check out, it's the one place I want to visit before I leave. I'm going to congeal with the masses crossing the street and then I'm going to get some sort of fish something over there."
NBC's "Community" will air on Fridays this fall at 8:30 p.m.

Follow NBC7 for the latest news, weather, and events: iPad App | iPhone App | Android App | Facebook | Twitter | Google+ | Instagram | RSS | Text Alerts | Email Alerts
Copyright AP - Associated Press