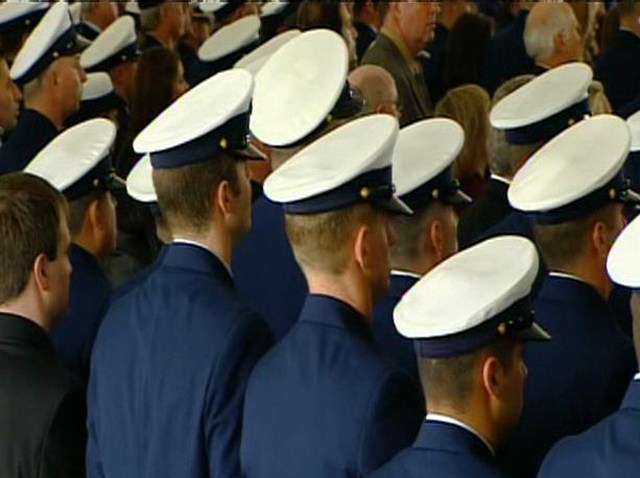 A memorial service began Friday morning for the seven Coast Guard members and two Marines were killed when an airplane collided with a Marine helicopter off the coast of San Diego.
"Your presence here this morning devotes remembrance," saidCapt. J.J. O'Connor,
the Commanding officer of Air Station Sacramento. "We're gathered as a Coast Guard family. We will lift each other up."
The ceremony is being held at the Sacramento station where the C-130 Coast Guard plane was based. The Coast Guard members in the crash were:
Lt. Cmdr. Che J. Barnes, 35, Capay, Calif., aircraft commander
Lt. Adam W. Bryant, 28, Crewe, Va., co-pilot
Chief Petty Officer John F. Seidman, 43, Stockton, Calif., flight engineer
Petty Officer 2nd Class Carl P. Grigonis, 35, Mayfield Heights, Ohio, navigator
Petty Officer 2nd Class Monica L. Beacham, 29, Decaturville, Tenn., radio operator
Petty Officer 2nd Class Jason S. Moletzsky, 26, Norristown, Penn., air crew
Petty Officer 3rd Class Danny R. Kreder II, 22, Elm Mott, Texas, drop master

No bodies were recovered after the crash.

The plane was searching for a missing boater when it collided Oct. 29 with the helicopter, which was on a training exercise.
The AH-1W Super Cobra helicopter's two-man crew -- Major Samuel Leigh, 35, from Maine, and 1st Lt. Thomas Claiborne, 26, of Colorado -- was also killed. A Marine spokesman, Major Jay Delarosa, said a memorial was not yet scheduled.

A joint Marines-Coast Guard board is investigating the cause of the crash.