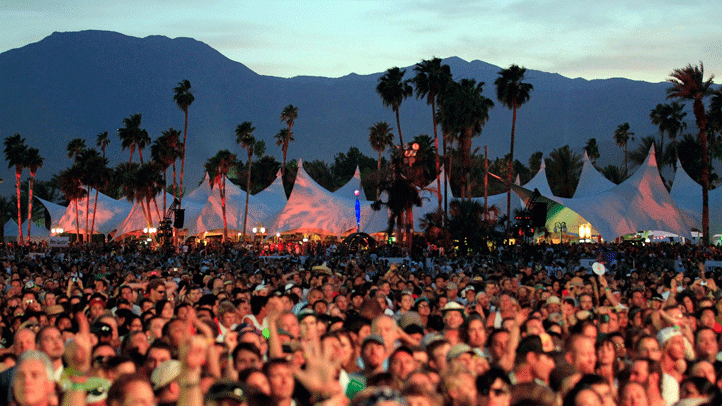 A few thousand ticket fans hope to snap up tickets on Tuesday to the Coachella Valley Music and Arts Annual Festival.
The Coachella Valley Music and Arts Annual Festival -- or simply Coachella for fans of brevity -- announced its 2013 lineup last Thursday, and the remaining tickets will be offered online that were not purchased earlier by fans willing to make the $349 commitment without knowing the lineups. Last year, general-sale tickets for both 2012 weekends sold out within a matter of hours, as did 2013 presale tickets.
Coachella opened the flood gates at 10 a.m. on Tuesday and by 11, all the passes for Weekend 1 had sold out.
Headliners this year include the Stone Roses and Blur on Fridays, Phoenix on Saturdays and Red Hot Chili Peppers on Sundays.
Other bands of note are Nick Cave & the Bad Seeds, Vampire Weekend, Social Distortion, Yeah Yeah Yeahs, Modest Mouse, Jurassic 5, the Postal Service, Grizzly Bear, Lou Reed, Grinderman, New Order and Hot Chip.
As usual, the lineup is centered around indie rock, but with this many bands playing, there's usually something for everyone. Hip-hop fans will be pleased at the inclusion of acts like Wu-Tang Clan and 2 Chainz, while EDM lovers can get their groove on to electronic artists like Paul Oakenfold and Moby.
Click here for the full lineup
Coachella will take place on April 12-14 and April 19-21. This marks the second year the festival is using its two-weekend format, with the same lineup performing each weekend, essentially doubling the festival's capacity. The doubled 2012 lineup didn't stop both weekends from selling out in a matter of hours.
Performers at last year's festival included the Black Keys, Pulp, the Shins, Radiohead, Mazzy Star, M. Ward, Bon Iver, Jeff Mangum, Feist, St. Vincent, Dr. Dre, Snoop Dogg, At the Drive-In, Beirut and Florence & the Machine.
The annual desert festival is a quintessential summer experience, but rumors have circulated that Coachella is considering adding additional dates in the fall. It remains to be seen whether the autumn festival will ever materialize, but for now Coachella will remain a hot time in more ways than one.
An autumn festival wouldn't be the first time Coachella has dipped its toes in uncharted waters. The festival also held an exclusive "S.S. Coachella" event at sea in the Bahamas and Jamaica last December. Performers at that event included Pulp, Hot Chip, Yeasayer, Girl Talk and Sleigh Bells.
SoundDiego associate editor Chris Maroulakos is also the managing editor of the San Diego music blog Owl and Bear.