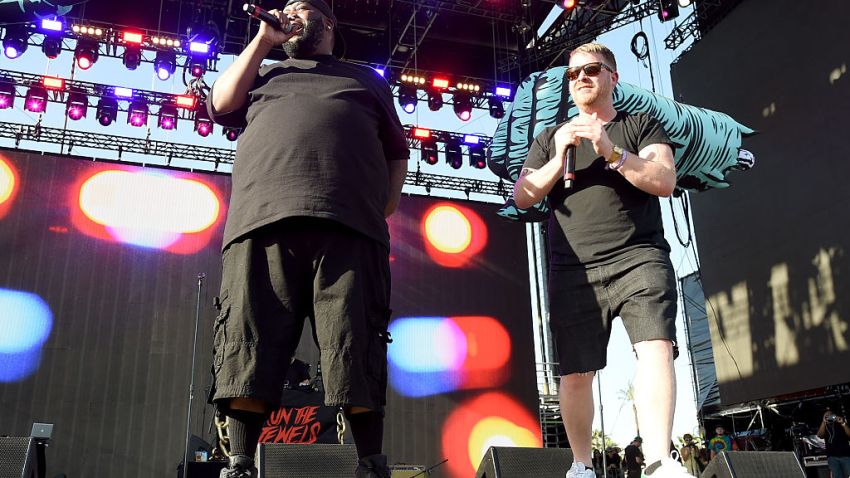 Well, the wind died down on Saturday and temperatures rose, but that didn't stop Coachella from having a blockbuster music day.
The middle slot of weekend one had a theme: guest stars. Sure, the usual roster of paparazzi prizes like Kylie Jenner, Justin Bieber, and Katy Perry were all on hand again. But outside of the VIP area, it was all about big reveals on stage.
Run the Jewels, the red-hot rap duo of Killer Mike and El-P, kicked things off with a video message from presidential hopeful Bernie Sanders. Before introducing them, the U.S. Senator spoke of his ongoing friendship with Killer Mike (Michael Render) and told the crowd that Render's "depth of passion, and his knowledge and commitment to community is an inspiration, and I value his friendship immensely."
But Run the Jewels didn't stop there. They also brought out Bay-Area turntablist DJ Shadow, rapper Gansta Boo, and hip-hop legend Nas, who performed his own song, "Make You Look," much to the delight of the afternoon crowd.
And things were just getting started.
Producer Matoma surprised the Sahara Tent by bringing out Ja Rule and Sean Paul. The Eagles' Joe Walsh joined Dan Auerbach's supergroup the Arcs during their set in the Mojave Tent, and electro-pop singer Halsey's wild card was Panic! at the Disco's frontman Brendon Urie.
EDM DJ Zedd had Kesha, in her first public appearance since her court battle, join him as he closed down the Outdoor Stage.
As promised, Ice Cube delivered on an NWA reunion. Well, sort of. Dr. Dre was curiously absent, but DJ Yella and MC Ren were both there and ran through a few of the iconic group's classics. Snoop Dogg, Common, and Cube's son, O'Shea Jackson Jr. -- who played his dad in the recent hit biopic "Straight Outta Compton" -- were also there.
Canadian songstress Grimes performed with Janelle Monáe, and LA producer ZHU surprised the Sahara Tent with an appearance from Bone Thugs N' Harmony.
Perhaps it was Disclosure's set, featuring cameos from both Lorde and Sam Smith, that won the epic guest-star battle. The British siblings certainly had one of the largest crowds of the day, and the crowd's response to each of the unscheduled appearances was deafening.
Not to be outdone, Guns N' Roses, who actually had an incredibly great sounding set, had guitarist Angus Young join them for "Whole Lotta Rosie" and "Riff Raff" -- a couple of older AC/DC tunes that were once staples in the GnR setlist. It was a preview of things to come, as it was also announced yesterday that Axl Rose will take over lead singer duties for AC/DC once his current GnR reunion dates are done.
How will Sunday be able to compete? Hard to tell. But it's time to find out...