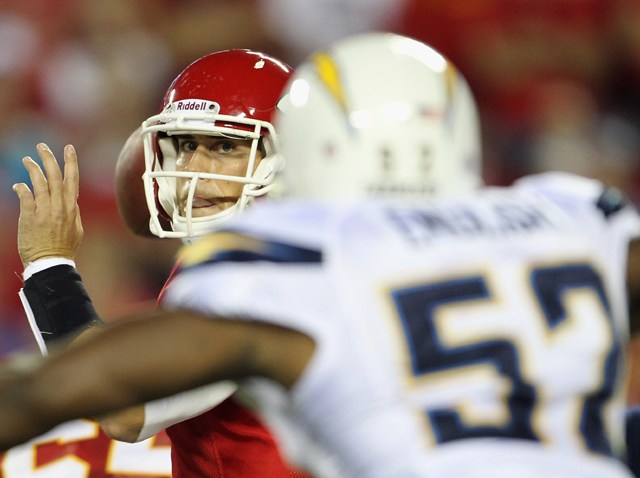 The Chargers might have been handed the gift they know they need in order to win the AFC West for the fifth straight season.
Then again, if Kansas City can run through San Diego's defense like the Oakland Raiders did, it might not matter who plays quarterback for the Chiefs on Sunday at Qualcomm Stadium.
Matt Cassel, a key reason the Chiefs (8-4) have emerged as contenders and lead the AFC West late in the season, underwent an appendectomy Wednesday. Chiefs coach Todd Haley won't say if Cassel's out.
If the Chargers (6-6) lose to Kansas City for the second time this season, their chances of winning their fifth straight division title will be over. Even if the Chargers win they'll still need help to make the postseason. They'd still be a game behind the Chiefs, and they've also got the Raiders (6-6) to worry about, especially since Oakland beat them twice and holds the tiebreaker. The Chiefs and Raiders play each other in the season finale.
If Cassel can't play, the Chiefs will turn to Brodie Croyle, who is 0-9 as an NFL starter and has not appeared in a game all year.
"If he does suit up, we're going to try to put him back on the bench, if we have to," Chargers linebacker Stephen Cooper said of Cassel.
While the Chiefs released no details of the operation, the American College of Surgeons website advises patients who have had a minimally invasive appendectomy not to "lift or participate in strenuous activity for three to five days" after the procedure.
If Cassel does try to play, he'll be fair game to the Chargers.
"Whatever presents itself," Cooper said. "We're just trying to make sure we get him down, make sure we try to get the ball, try to get some turnovers. If the opportunity does present itself, we're going to try to hit him as hard as we can and see what happens from there."
Cassel has thrown for 2,503 yards and 23 touchdowns, with just four interceptions. His leading receiver, Dwayne Bowe, has 58 catches for 885 yards and an NFL-high 14 TD catches.
Croyle's last start was in the 2009 opener.
"Where you might run into trouble changing quarterbacks like that is if one was right-handed and the other left-handed," wide receiver Verran Tucker said. "But Matt and Brady both throw with their right hand so it won't be so much of a problem. The kind of ball they throw is very similar. I don't think it will be much of an adjustment at all for the receivers."
The Chiefs are hardly one-dimensional. Jamaal Charles is third in the NFL with 1,137 yards rushing and three touchdowns. Thomas Jones has 765 yards rushing and five TDs.
The Chargers were manhandled on both sides of the ball in a 28-13 loss to the Raiders. They allowed 251 yards rushing and spotted the Raiders a 14-0 lead with more of the blunders that have defined them this season. Darren Sproles fumbled a punt and Philip Rivers was intercepted, giving the Raiders excellent field position in the first quarter.
"Oakland just physically wore them down," Chiefs defensive end Shaun Smith said. "They pounded the ball against their defense. We've got a high-powered offense. We match up well. I think the game's going to come down to whoever doesn't turn the ball over."
Kansas City averages 175.2 yards rushing, best in the league.
"They're playing extremely well," Chargers safety Eric Weddle said. "Obviously they run the ball, and they're capable of passing when they need to. We know what we have to do. We didn't play well last week. We're eager for this game to come around and go out and have a great performance.
"You give up 251 yards rushing, they're going to try to do some similar things we had issues with," Weddle added. "We'll be ready. As a defense, we've got some making up to do after last week."
Said Jones: "Obviously our offensive line has done a great job all year of coming off the ball and giving us room to run. We're prepared because we know more than likely there'll be a couple extra guys in the box. We know what our job is and that's to try to get yards."
It was the Chiefs who started the Chargers out on what's been a mediocre season by beating San Diego 21-14 on Sept. 13. Rookie Dexter McCluster returned a punt a team-record 94 yards for a touchdown, the first of many special teams blunders by the Bolts.
The Chargers have been above .500 only once this season. They're in danger of posting their second non-winning record in three seasons. In 2008, they won the AFC West at 8-8, winning their final four games even as Denver was staging its historic collapse.
"We were here at 4-8 and the percentages were a lot worse than they are now," Rivers said. "We've just got to go win. In some ways, I think being the chaser is less pressure. Just go play."
Asked if he thinks Kansas City is the best team in the AFC West, Cooper said:
"No I don't. We messed it up ourselves. But their record shows that they are the best, so we have to say they are the best. But honestly, in our locker room, we really feel that we are the best in the AFC West and we've got to go out and get it done on Sunday."

Copyright AP - Associated Press