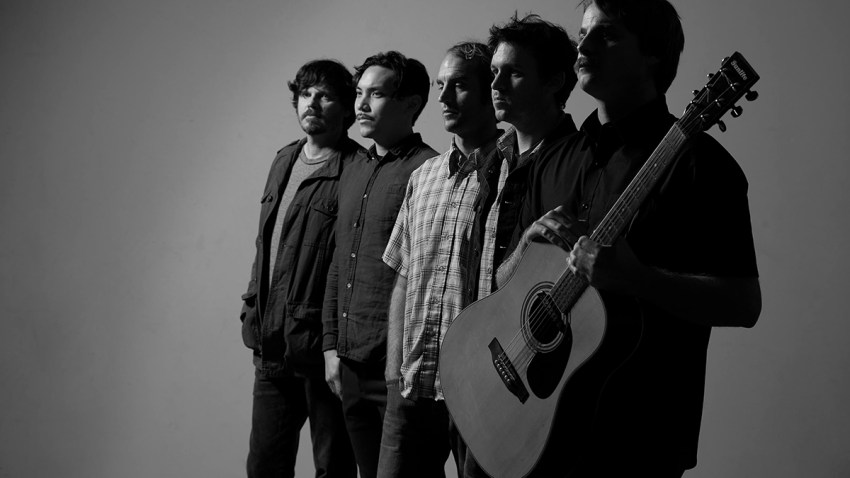 Now in its 15th year, the annual Carlsbad Music Festival once again returns to the Village by the Sea on Aug. 24-26 with an impressive and, as expected, incredibly diverse lineup.
Billed as a three-day summer celebration of "adventurous music by the beach" on Friday through Sunday, the festival -- which is curated each year by founder and artistic director (and composer/violinist) Matt McBane -- takes over St. Michael's by-the-Sea Episcopal Church and boasts more than 60 performances on indoor and outdoor stages, a beer garden (naturally), food trucks and an artisan market.
Many concerts are free to the public, but several shows inside the church on the main stage are ticketed. A three-day VIP package that includes a parking pass and priority seating at all main stage concerts are $349, while VIP single-day tickets are $109, and single-day general admission passes are $49 (head here for more options). The festival has varying hours each day: 5 p.m.-midnight on Friday, Aug. 24; noon-10 p.m. on Saturday, Aug. 25; and noon-8:30 p.m. on Sunday, Aug. 26.
While tapping a superb cross-section of some of San Diego's best and brightest indie-rock bands to perform (including SoundDiego favorites Inspired and the Sleep, the Strawberry Moons, Taken By Canadians and the Paragraphs), undoubtedly one of the event's biggest draws is North County alt-folk/rock group Trouble in the Wind.
Invited to play the festival year after year since 2012, the acclaimed five-man band (and 2018 San Diego Music Award-winner of Artist of the Year and Best Country/Americana Album) is looking forward to returning to the event's free, outdoor lawn stage on Friday.
"The communal spirit of the event is so vibrant and celebratory," Larry Doran, the group's drummer/co-vocalist, told SoundDiego. "It's wonderful to see such a diverse array of music fans come out and enjoy themselves. Seeing the excitement of younger kids dancing with their parents and grandparents really creates an atmosphere of inspiration which is what the festival is all about, I think. Hopefully, it motivates families to seek out local artists or sign up for music lessons."
Rock music aside, the fest also runs the gamut of genres ranging from chamber music (Sibarg Ensemble, Eric Byers, Hausmann Quartet) to New Orleans-style brass bands (Crew D'Etat) and hip-hop (the Parker Meridien) to blues musicians (Cindy Lee Berryhill, Nathan James) and experimental jazz groups (Nathan Hubbard Trio, Stephanie Richard + Andrew Munsey Quintet, Peter Sprague + Leonard Patton). Whatever your style, you'll find it -- or perhaps you'll even discover something new along the way (for a full lineup and schedule, head here). Indeed, the consistent eclecticism of the lineup has set the Carlsbad Music Festival apart over the past 15 years.
"That's the best part for sure!" Doran said. "It's one thing to plan an evening around seeing one band or solo artist [but] this is truly a rare opportunity to see and hear a wide variety of talented musicians gathered together in one place. Plus, you can wander around to enjoy so many local businesses offering great food, coffee, wine, beer and other artisanal goods while soaking up the evening sunset. It's a truly unique event."
So unique that even the lads in Trouble in the Wind -- who head into the festival with an acclaimed new album titled "Hammer On" underarm [listen to it here] -- have been inspired to dig deep for their 2018 performance.
"We actually talked about making our set reflect a more diverse experience this year in keeping with the theme of the festival," Doran continued. "In past years, we focused on fan favorites to keep the energy moving. This time, we're going to explore sharing songs that take the audience on a journey through our catalog. We hope to play a few of our favorite new songs, some dusty old numbers and fan favorites as well. We don't see this as a promotional display of our band but a chance to challenge ourselves and the audience to really be engaged in the listening and sensory aspect of the experience. We want everyone to dance, smile, cry and go home feeling alive."
If one thing has been proven to bring people together in tumultuous, divisive times, it's music -- and that concept isn't lost on Doran and his bandmates.
"We all need to escape the madness of politics and remind ourselves that we create our own energy. This event is a rich example of the power of positive community spirit."
The 2018 Carlsbad Music Festival takes place Aug. 24-26, at St. Michael's by-the-Sea Episcopal Church (2775 Carlsbad Blvd.). For festival passes, info and more, visit CarlsbadMusicFestival.org.

Dustin Lothspeich is a San Diego Music Award-winning musician, an associate editor at SoundDiego since 2013, talent buyer at The Merrow, and founder of the music equipment-worshipping blog Gear and Loathing in San Diego. Follow his updates on Twitter or contact him directly.