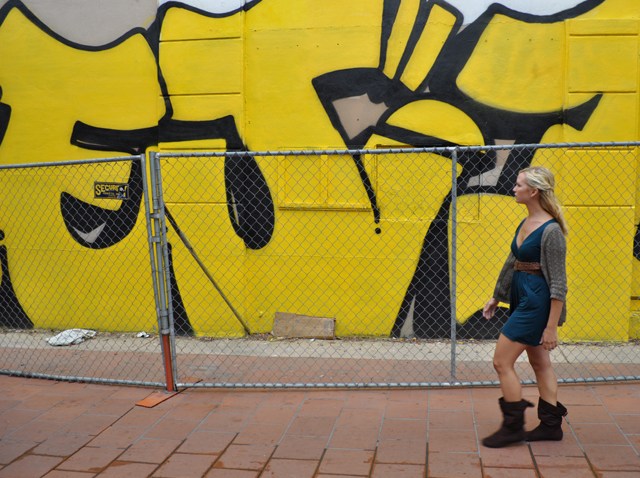 Is it art? Or an abomination?
Those are questions people walking and driving through the heart of downtown San Diego are asking themselves about the graffiti-style murals that recently have gone up on the historic, defunct California Theater building on 4th Avenue. The bold paint jobs are generating a lot of buzz -- most of it negative.
In the eyes of some beholders, a case could be made that there is "artistic merit" to one of the murals on the theater's decrepit exterior walls. Some others, though, see issues beyond any differences over artistic merit.
"They might want to think that through a little bit," said Point Loma resident Lauree Sahba during a noontime stroll along C Street. "It does look like graffiti, and I'm not sure we want to encourage that."
The artwork was commissioned by the Museum of Contemporary Art San Diego, with the consent of the private equity firm that owns the building. And there's more -- not necessarily in the same style -- to come throughout the city.
"I'm a little ambivalent about it; it's bright, it's colorful," University City resident Jim Rosenthal said Friday as he studied the murals during a noontime break from work. "But I don't know what kind of message it's really sending. I can't read it, and I'm wondering if it might not encourage worse things."
The murals are the earliest entries in the Museum of Contemporary Art's upcoming exhibition of "street art," which is called Viva la Revolucion: A Dialogue With the Urban Landscape. Bankrolled by $250,000 in private funding, it will feature 20 artists from all over the world, showcasing different styles, some of which actually might be welcomed by critics of the displays outside the Californian.
"I'm into music and arts every day, and I personally think this is making the city go backward," said Vincent Puma, owner of the 4th & B concert entertainment venue. "In the past 15 years, we've cleaned up the city -- people come down here now, and I think it's sending the wrong message."
And what does the seemingly indecipherable yellow-and-black scrawl say on the theater's south wall facing the trolley tracks on C Street?
"'StefanRescDJBazz'," said Mira Mesa resident Rudy Ortiz, a graffiti artist who says he keeps his work "street legal."
"DJ Bazz is the name of the graffiti artist," Ortiz said. "And he's promoting himself or he's promoting an area. And it's called a 'piece.' I like it. It's not that bad. It doesn't promote a gang. It's to himself or to someone in general."
Museum officials identify San Francisco artist Barry McGee as the creator of the theater murals.
The exhibition officially opens July 18 in the museum's gallery on Kettner Boulevard downtown. Street-art works will appear on privately owned buildings in and around San Diego through Jan. 2.