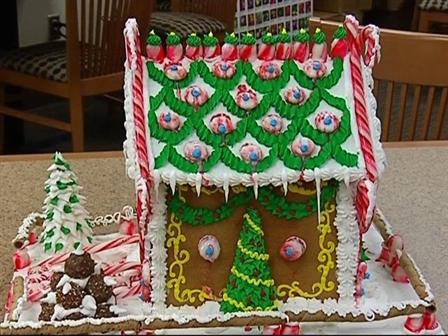 If you've ever built a gingerbread house, you can appreciate the work behind Gingerbread Village 2009. It's a real community effort.
The property and construction supplies to create the village are donated by the folks at the Manchester Grand Hyatt and the manpower, interior and exterior designers come from small and large members of the community at large.
The project started last week when students from four local elementary schools donned chef hats and aprons and dug in - up to their elbows - in frosting, jelly beans, gum balls and just about every other sweet confection that old Willie Wonka churned out in his fabulously famous factory.
The campuses represented include Kimbrough, Grand, The Nativity Prep Academy and The Monarch School.
Adults get in on the action (and fun) next week as the corporate sponsors dig in and build gingerbread houses of their own.
The gingerbread walls and roofs, by the way, were cooked up in the Hyatt's main kitchen by Head Chef Manfred and Pastry Chef Giovanni.
The pair is also collaborating on a scaled down, souped up replica of the hotel, which, along with all the "kiddie & corporate castles", becomes "Gingerbread Village 2009."
It goes on display outside the hotel's "Redfield's Deli" on December 4 - 27.
You're urged to stop by, drop off a new, unwrapped toy for the Toy-For-Tots program, and then vote on your favorite house. The Manchester Grand Hyatt will then donate $1500 to the Make-A-Wish Foundation in the winner's names.