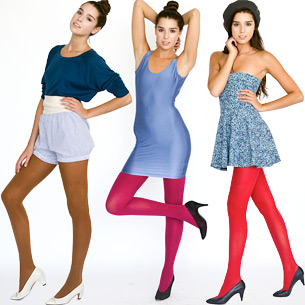 LEG WORK: Tights add a clean crispness to cool weather skirts and dresses. Why not take things up a notch with some brightly colored Opaque Pantyhose ($14) from American Apparel? They look great with your standard blacks and browns, but can also blend together nicely with more colorful pieces. Buy a few unusual colors and see how many different looks you can get from one tiny piece of clothing.

UPTOWN GIRL: When neon pink just isn't bright enough, you can always gloss it onto patent leather. Michael Kors already knew that, though, because his Uptown Astor Satchel in Neon Pink ($448) does just that, and throws some black studded trim in for good measure. The Astor line has been something of a staple for Kors, so you can count on this to work hard and look great.

GLOW GUYS: Girls don't get to have all the fun when it comes to neon shades. Guys can snap up some bright M&D Crew ($18) or V-neck ($9.99) shirts at Urban Outfitters. These shirts look fresh when layered under sweaters or (until it gets cold) popping against a tan at the beach.

SIMPLE CINCH: Bright colors can be a little intimidating for the conservative set. To help ease into this trend, J. Crew is offering their Classic Leather Belt in neon orange and neon pink ($29.50). Both colors are surprisingly versatile, and its skinny style is the perfect trim for finishing jeans or defining waistlines.