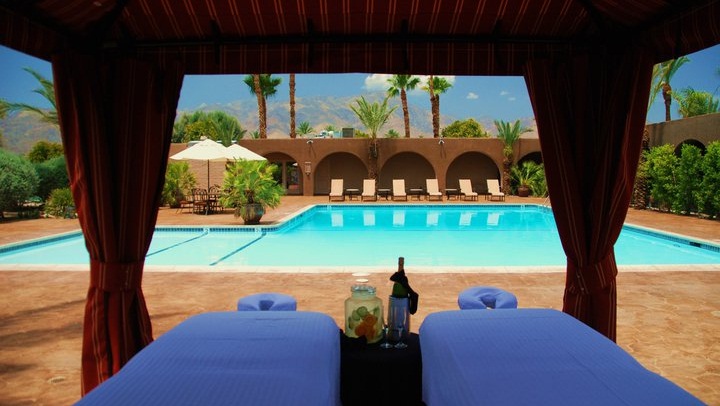 MAKE YOUR PETAL PLANS: Plotting to eye, and admire, the too-brief, typically wowza (depending on when you show up) desert flower show is a combination of luck, timing, some more luck, a little moxie, and a dash of kismet. Buds pop in the far reaches of our state's driest regions, if the rain has been kind, and it is up to the petal peepers (spring's version of autumn's leaf peeper) to seek out where the show might be on what day, which can prove to be a wicket most sticky. What is the easy part of this equation, however? Booking your overnight accommodation that's adjacent to all of that floral, arid-awesome beauty. That only takes a phone call, or a web site visit, and it doesn't involve tracking down rumor of where a certain cactus flower is suddenly unfurling, or in which canyon a particular bush is now ablush with pink petals.
BORREGO SPRINGS RESORT & SPA... which is a location-nice launchpad for Anza-Borrego State Park, sees a profusion of petal peepers come March and April, so it is no surprise that the property has a package on for guests hoping to get a glimpse of one of the springtime's more unusual displays. The Wildflower Package is on -- you might have remembered it from a past visit, so, yep, it now is apparently a Borrego Springs Resort & Spa staple -- and you get overnight accommodations plus items to power your petal search.
BOX LUNCH, BUD BROCHURE: The extras include a box lunch -- chances are you won't find too many restaurants out in the deep desert spots where the flowers are showing -- and a brochure detailing desert flora. A map of prehistoric animal skyart structures is also yours, as well as a few other goodies. With warmer weather finally arriving, will you even go for a pre-swim before heading out on your search? The desert has many pluses in the spring, but the chance for a quick dip ahead of scouting for wildflowers is high among them.
Copyright FREEL - NBC Local Media