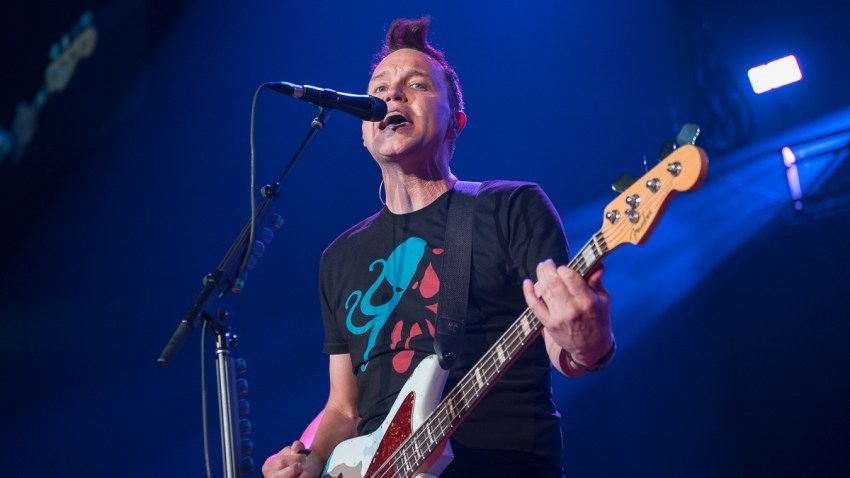 Two truths and a lie, Blink-182 edition: One of them formed an academy for alien research and conspiracy theories, one of them survived a plane crash and one of them advised the Navy on ways to capture former Iraqi dictator Saddam Hussein.
We know the first two are true, but the third one is definitely a lie, right? Well, maybe not -- maybe all three of those things are true.
In a tweet on June 26, Blink-182 bassist and vocalist Mark Hoppus shared the least plausible story about himself that is (allegedly) true.
"On an aircraft carrier in the Persian Gulf, I told a Navy Admiral on his way to meet with the Joint Chiefs of Staff my ideas on how to capture Saddam Hussein," Hoppus wrote.
He followed it up with some details:
The tweet, which has been making the rounds on most major music sites, begs so many questions: Why was Hoppus on an aircraft carrier in the Persian Gulf in the first place? Why would a Navy admiral humor a pop-punk bassist's strategic advice? What was the Navy admiral's reaction? Did the U.S. military try out the tactic? Would it even work, is it even true or is Hoppus veering into Tom DeLonge territory here?
There's not much we can do but speculate, as Hoppus has yet to respond. While we wait, here's a handful of choice -- and mostly sarcastic -- replies to his tweet:
I'LL VENMO U $9 IF U CAN FIND MY LOCATION BY TOMORROW, GOOD LUCK IDIOT -- @awsten
Mark is Batman confirmed. -- @AlexAllTimeLow
"Thank you, other guy from blink-182, very cool!" -- @DinosaurusJeff
Blink 182 is so talented. International espionage and discovering aliens. -- @mullenax21
phew, glad you went with this story vs the one about the super buff dude that got naked and spread eagle in the sauna in france that one time. #neverforget #saunaballs -- @brendanklein
Are these ska lyrics -- @Gutty_7
You're starting to sound a lot like Tom... -- @dylanpentek
Rutger Ansley Rosenborg has been an Associate Editor at NBC SoundDiego since 2016. Find out more here, or contact him here.