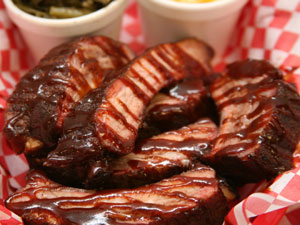 The rub is just about the only secret left when it comes to Smokin' Joe's Barbeque in Poway.
After nearly 7,000 votes were tallied, the southern style restaurant took home the NBCSanDiego.com Golden Local award for the best ribs in town, beating out Phil's BBQ.
"When you're talking about southern cooking, you're talking about Smokin' Joe, because that's what I do," Smokin' Joe Jones said.
The ribs may fall right off the bone and melt in your mouth after hours of slow cooking, but the experience goes far beyond the food. Mom and Dad run the place while their son, Jimmy Branham, grills up the food, cooking from the heart.
"From when you grill them, to when you put them on a plate, it's all an art," Branham said.
Customers rave that their pork, beef and baby back ribs transport them to the South and the comfort food combined with the service is what keeps them coming back week after week.
"They're really friendly here, it's obviously family owned," customer Marc Brown said, "Every time we've been here they've been friendly and talked about their son who is doing a lot of the cooking here."
Smokin' Joe also has a restaurant in Alta Vista and will be opening another in Santee in mid-January. He personally trains each of his cooks, passing down the same insider knowledge that his parents taught him 65 years ago. Branham has made him proud and converts first time customers into instant regulars.
"I smell the barbeque in my neighborhood every day," customer Jason Harrison said, "It's some of the best barbeque I've ever had."