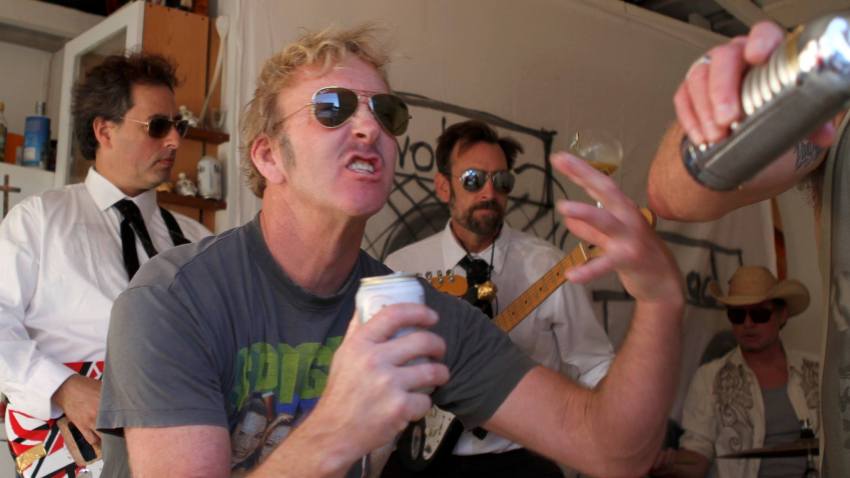 The perfect band? "A band that doesn't play a bunch, you know what I mean?" says Beautiful Beast frontman Jake Brewer.
He isn't kidding. "Every band that gigs a lot, they all start hating each other," says Brewer, who fronted local island-rock outfit Borracho y Loco in the '80s and '90s. So when Beautiful Beast formed a few years ago, it was just a group of homies having fun, preferably to the tune of fewer than 10 shows a year.
They couldn't eschew a record, however, not with a friend like Chris Goldsmith. "I was asking what's up with his super interesting life, and he was like, 'I'd actually like to do a Beautiful Beast record,'" Brewer says of Goldsmith, a Cardiff resident who heads up talent at Belly Up and has won multiple Grammys for producing. "And I was like, 'Man, that's my band's name.' And he's like, 'You idiot, I want to produce your band.'"
Which brings us to Wednesday night, when Brewer & Co. bring that Beautiful Beast sound to the Belly Up stage for the release of their debut LP. Elements of punk and classic rock mixed with playful lyrics comprise the band's self-titled effort, which bounces between odes, love songs and rock ballads about a cast of characters, both real and imagined.
But this isn't a download-code-only kind of release party. The album's first single, "Aquavengers," was inspired by a series that Brewer and his friend came up with a few years ago on Fourth of July, when they took to the high seas dressed as aquatic crime fighters (which you can get a sense for in the song's music video).
"They're heroes for profit, the Aquavengers," Brewer tells SoundDiego. "They're not the shiny, bright heros you'd expect. They're tortured souls."
The series developed into a comic book -- the cover of which was illustrated by Drew Toonz (of Emo Cat fame) -- and the premiere issue serves as a vessel for the album's download code. Everyone who buys a ticket to Wednesday's show gets one, so in effect it also sets the tone for the night, and appropriately so.
"Music, to me, it's the release. It's the fun. That's where you go to blow stuff off," says Brewer. "I don't want to gain any issues because I'm playing music. I'm replete with issues, believe me."
Bets are it's gonna get weird at Belly Up Wednesday night. Here's hoping.
Beautiful Beast play Belly Up on Wednesday, Jan. 27, at 8 p.m. Chris Cote and David Smith open. Tickets are available here, and come with an album download and comic book.

Hannah Lott-Schwartz, a San Diego native, moved back to the area after working the magazine-publishing scene in Boston. Now she's straight trolling SD for all the music she missed while away. Want to help? Hit her up with just about anything at all over on Twitter, where -- though not always work-appropriate -- she means well.