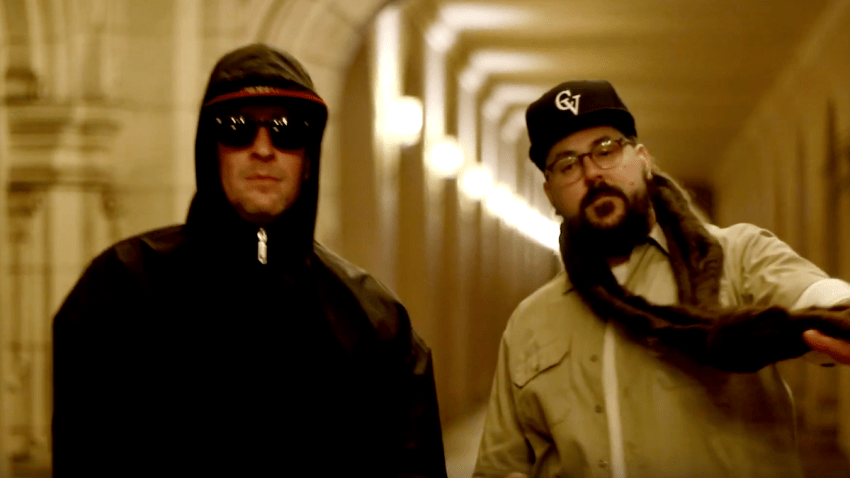 "Roscoe with the snotty nose," spits San Diego's B-Boy Mansini via his latest single/video "Sweep the Leg," featuring Banish Habitual. The line, a sly reference to "Martin," is a bar that pokes through an asphyxiating guitar riff as Mansini cross cuts his way over gritty production courtesy of Castle Money Beats.
Shuffling through rhyme patterns, poised and composed, he gives off an air of experience -- a seasoned rapper who's "nice with the written" and "nice off top."
Word -- as his brand of boom bap is of the braggadocio variety, where extreme confidence and self esteem are the only currency that matter. To sweep the leg implies no mercy, and since hip-hop is a competitive exercise, this isn't a place for shrinking violets or meek wall flowers.
Indeed, Mansini alone is enough to keep the timid at arm's length, but he's not on a solo mission, and Banish, who comes in on his heels, pulls no punches.
"I'm still killing, you know the feeling," he howls, picking up where Mansini left off, before rolling into, "Criminal mind, BDP, Easy E, still talking real G's, watch where you walk on greasy streets."
It's gully music, no doubt, and feeling like it arrived from the inner workings of a 12-bit sampler, this is a track for the basement heads -- the trio channeling hip-hop's days of dusty crate mining and raw swagger.
But this is just the first offering from a full-length Mansini is working on called "Lazy Eye Flaco." And while he doesn't have an official release date for the album yet, he's content to push "Sweep the Leg" until he does.
So, for now, it's the stage and live shows, with his next performance on May 15 at the AC Lounge for their Hip-Hop Wednesday showcase.

J. Smith, aka 10-19, is a San Diego native, rap fan and San Diego Music Award-winning musician. You can follow him on Instagram at 10-19_the_numberman or on Twitter

.