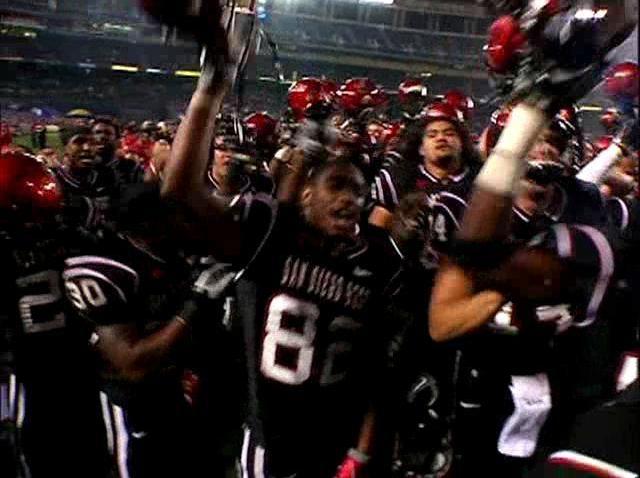 It's been 12 years since San Diego State has been eligible to play in a bowl game. Since the Mountain West Conference was formed in 1999, the Aztecs were the only team from the conference to not make it to the post-season. That's all over now.
State beat Wyoming in Laramie 48-38, running its record to 6-2. You need six wins to qualify for a bowl game, so start making plans for a game in late December.
Ryan Lindley threw for 365 yards and three touchdowns, DeMarco Sampson caught seven passes for 175 yards and a pair of those scores, and Brandon Sullivan had a trio of 1-yard touchdown runs to help the Aztecs reach that previously mythical plateau. It's a huge accomplishment for a program that had six wins the previous two seasons combined. But, head coach Brady Hoke is extremely far from satisfied.
"We're 2-0 in the second half of the season," Hoke said after the Wyoming win. "That's how we've looked at it since the first six games were over with. It's just a way for us to make sure that we're taking care of the things, the details that we have to take care of."
Hoke said earlier in the week the Aztecs' goal is to win the Mountain West title, not merely play in a bowl game. With a 3-1 conference record, that goal is still very much attainable. In fact, State controls its own destiny. If they win out, they'll do no worse than tie for the best record, and since they still have games against TCU and Utah they'll own the tiebreaker. Of course, beating the Horned Frogs in Fort Worth is a Herculean task and taking down the Utes at home won't be a picnic, but nothing is impossible. The Aztecs' other two games are against Colorado St. and UNLV, both at the Q. So it's looking like 8-4 is a very real possibility. Actually, make that probability.