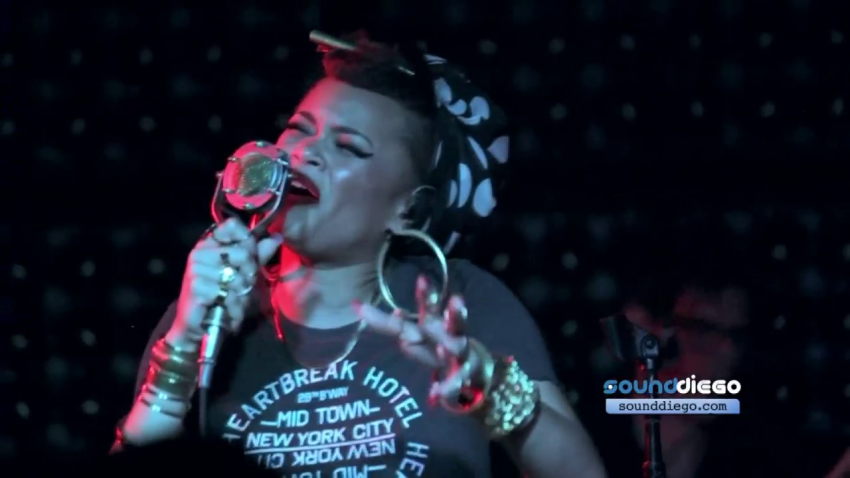 Simply put, no San Diego musical act made a bigger national splash in the world of music this year than Andra Day.
For the uninitiated, the neo-soul singer (who majored in vocal performance at the San Diego School of Creative and Performing Arts) was featured recently in a recent Apple commercial, singing "Someday at Christmas" with none other than R&B legend Stevie Wonder -- but that's not where the headlines end. In fact, that was just a nice year-end cap to an incredible 2015.
Day's debut album, "Cheers to the Fall," was released in August and was co-produced by in-demand retro soul singer Raphael Saadiq (formerly of Toni Tony Tone) and featured huge names in the soul/hip-hop world like Questlove and James Poyser (of the Roots), DJ Jazzy Jeff and the Dap Kings (from Sharon Jones's band fame). Not only was the album a veritable blockbuster of talent, but iconic film director Spike Lee directed the video for her first single, "Forever Mine."
Need more proof of Day's worldwide emergence? She performed her hit single, "Rise Up," at this year's B.E.T. Awards and on "Good Morning America"; made an appearance in the Netflix documentary "What Happened, Miss Simone"; and was named by "Rolling Stone" magazine in July as one of the 10 New Artists You Need to Know.
Still not enough? First Lady Michelle Obama personally requested Day to perform at the annual National Christmas Tree Lighting in front of the White House -- even the Obamas hopped aboard the Day train! Oh, and she received two Grammy Award nominations on Dec. 7 for Best R&B Performance and Best R&B Album.
Yep, you could say Andra Day pretty much had the best year ever.
And now that you're in the know, here's another little eyebrow-raising tidbit about her: Day is scheduled to perform the national anthem at Qualcomm Stadium on Dec. 23 during the 11th annual San Diego County Credit Union Poinsettia Bowl, which pits Boise State vs. Northern Illinois. She will also perform "Rise Up" during a postgame show, leading up to the game's alleged "never-before-seen" fireworks extravaganza.
Needless to say, the real fireworks will undoubtedly begin the moment Andra Day takes the stage.
Tickets to the 2015 San Diego County Credit Union Poinsettia Bowl range from $20 to $80 and can be purchased online or through any Ticketmaster outlet.

Dustin Lothspeich is the talent buyer for The Merrow; co-hosts the Three B Zine Podcast; and plays in Old Tiger, Diamond Lakes and Boy King. Follow his updates on Twitter or contact him directly.