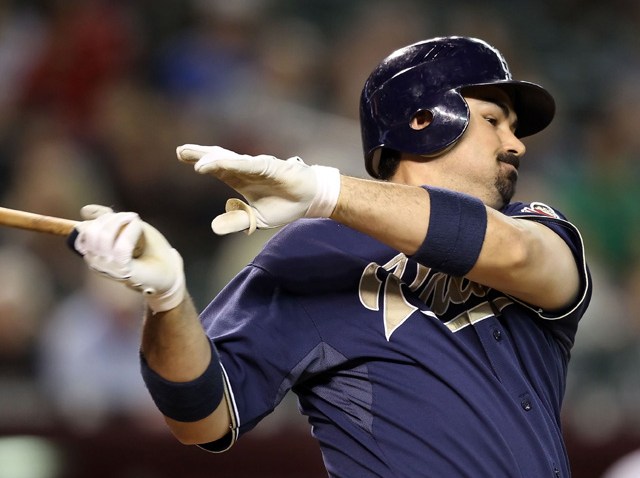 It hurts. It stings. It flat-out stinks. Nobody likes losing a hometown hero. Trading Adrian Gonzalez in his prime is not something Padres fans would have liked to have happen. But, it was inevitable.
I know you want to lay blame. It's natural. I'm here to tell you, don't blame the Padres. Don't blame Gonzalez. Blame Major League Baseball, specifically Bud Selig, for the way it's allowed its salary structure to be built.
In the NFL, revenue sharing works. It's why Kansas City has a legitimate chance at the playoffs. In MLB, revenue sharing is a sham. It's why Kansas City has a legitimate chance at losing 100 games every year. Baseball has allowed the money and tradition-rich clubs like New York and Boston hijack the game. The Yankees and Red Sox have their own minor league systems. They shouldn't be able to use other big league clubs as farm teams, too, but that's how it often happens.
So the little guys have to get creative. Gonzalez grew up in San Diego. But he said he wanted to test the free agent waters to earn what the game tells him he's worth. It's a simple decision to make, really. The Padres had a better record than the Red Sox last year. I'm sure, if all things were equal, he would have loved to stay home. But all things aren't equal -- not even close -- so he had to go.
But it's not fatal. Sure, Padres fans have a history of watching their favorite players reach the brink of stardom, then play All-Star Games in other uniforms. The next few years after the trade would be last-place muckfests, and a few seasons later they'd get another couple studs and briefly contend again. But now they've figured out the formula to sustained success. It starts in the minor leagues, and for the first time in a long time (maybe ever) the Padres are loaded with talent.
The three (soon to be four) guys they got for Gonzalez are supposed to be can't-miss prospects. Casey Kelly has only been a full-time pitcher for one season and already has a live arm and a 3-to-1 strikeout-to-walk ratio. That's really good, especially for a guy who's still learning how to pitch. They say his arm and style are comparable to a guy Padres fans will remember: Kevin Brown. Hopefully without the surly attitude. Anthony Rizzo is a big, strong, slugging first baseman who could replace Gonzalez in a few years. Statistical evaluations suggest he'll be the equivalent of one Todd Helton. Reymond Fuentes is a speedy outfielder who's compared to a young Johnny Damon.
So, If I were to tell you the Padres traded Adrian Gonzalez for a young Kevin Brown, Todd Helton and Johnny Damon, would you be OK with it? I'm assuming you're nodding your head. Now, granted, you never know if a guy is really going to live up to his projections. Baseball is funny that way. But, Boston has a recent history of developing very good Major Leaguers. Dustin Pedroia, Jacoby Ellsbury, Kevin Youkilis and Jonathan Papelbon all recently graduated from the Sox minor league system and went on to produce in the Show.
Padres fans, have patience. The return on the trade won't be seen in 2011. Maybe not even in 2012. But in the years after that, the Padres will be a young, talented, pennant-contending team that can simply reload when their stars leave instead of rebuild.