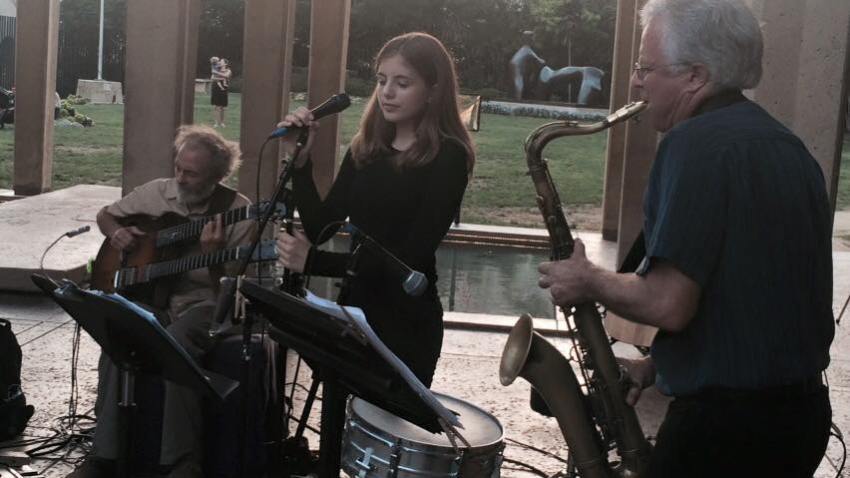 Every Wednesday night, trumpet master Gilbert Castellanos holds a showcase called the Young Lions Series for up-and-coming players at Panama 66 in Balboa Park.
Fourteen-year-old Kate Sprague, accompanied by her father, multi-instrumentalist Tripp Sprague, and her uncle, guitar virtuoso Peter -- joined Castellanos for an evening of jazz classics and material that reflected her interests in folk-pop.
The first tune I caught, "Straighten Up and Fly Right," captured all four musicians with wings fully extended. No one weaves through the changes with relaxed elan quite as gracefully as Tripp, and Castellanos followed with masterful improvising -- including clever quotes from "Fascinating Rhythm" and "Tea for Two." Bringing up the rear, Peter took the tune into an acapella direction with stunning use of advanced harmonies. Meanwhile, Kate's voice was warm and pliant, and she even pulled off a short scat solo with aplomb.
Even though she obviously feels more comfortable with more contemporary material, Kate's intonation and delivery seemed much stronger on standards like "Summertime" and the crowd-pleasing "Sir Duke," which she handled with the ease and swing of an old pro.
At such a young age, the world seems there for the taking for Ms. Sprague, and with such an illustrious family connection, I'm betting that she will take it far, indeed.

Robert Bush is a freelance jazz writer who has been exploring the San Diego improvised music scene for more than 30 years. Follow him on Twitter @robertbushjazz. Visit The World According to Rob.