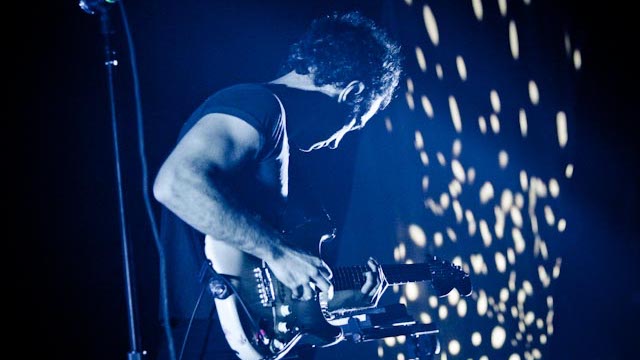 If you're going to see Albert Hammond, Jr. and hoping he'll play some of your favorite Strokes songs, you can just surrender the fantasy because it isn't gonna happen. Still, the talented guitarist and singer has been doing the solo band thing for a few years now and is a master performer who delivers a solid show. Be sure to catch openers In the Valley Below, who have been to San Diego a few times and are excellent as well. Meanwhile, female-fronted Brooklyn psych-pop act Crumb play a sold out show at the Irenic, the sunny Private Island play Soda Bar, and locals Mdrn Hstry take the stage at the
Casbah
.
Sunday, Feb. 24:
Albert Hammond, Jr., In the Valley Below @ Belly Up
Mdrn Hstry, Belladon, the Lucy Ring @ Casbah
Private Island, Kuwada, Hush @ Soda Bar
Crumb, Video Age, Shindigs @ The Irenic (sold out)
Gregory Porter @ Balboa Theatre
Aziz Ansari @ Copley Symphony Hall (7:30-10:30 p.m.)
The Screamin Yeehaws, the Heroine, the Homeless Sexuals @ Tower Bar (4 p.m.)
Trevor McSpadden @ Grand Ole BBQ & Asado, Flinn Springs
The Walter Brothers @ Sycamore Den
Funk Jam @ Panama 66
Un, Body Void, Garth Algar, Abyssal @ Space
Harlem Globetrotters Fan Powered World Tour @ Pechanga Arena
Breakthru Entertainment @ House of Blues
Celebrating Bob Magnusson @ Dizzy's
Rat Sabbath with DJ Ratty @ Bar Pink (10 p.m.)
VJ Bang @ Bar Pink (3 p.m.)
Moxie & Leon, 87, Haley Blaze @ Lestat's
Disney's Alladin @ Civic Theatre (1 p.m. & 6:30 p.m.)
Second Echo @ Bancroft Bar
Mesa-Yakushev Duo @ California Center for the Arts, Escondido
Hardcore Matinee: Regulate, Dead Heat, Soul Power, Get a Grip @ Che Cafe Collective (3:30 p.m.)
Braza Lounge presents Flora Matos @ Quartyard (3-8 p.m.)
Lady Bunny in "Pig in a Wig!" @ Martini's Above Fourth
Chad & Rosie @ Crossroads, House of Blues (free)
Salsa Sundays @ Moonshine Beach
Travis LeDoyt @ Sycuan Casino (4 p.m. & 7 p.m.)
OB Mardi Gras @ Winston's (4 p.m.)
The Designing Women @ The Merrow (6 p.m.)
Divinity presents Chvrch @ Blonde
Whit Aadland @ Pour House (1 p.m.)
The Night Howls @ Pour House (9 p.m.)
Salsa Sundays @ Queen Bee's (all ages)
#ThatLoudSD @ Kava Lounge
Reggae Sunday @ U-31
Uptown Top Ranking with Tribe of Kings @ The Office
Innocent Bystranders @ Navajo Live
Psydecar @ Humphreys Backstage Live (7 p.m.)
Reggae Sunday @ Spin
Sunday Is for the Girls with You and Yours @ El Dorado
Rosemary Bystrak is the publicist for the Casbah and writes about the San Diego music scene, events and general musings about life in San Diego on San Diego: Dialed In. Follow her updates on Twitter or contact her directly.