You could say it was the best of times, and it was the worst of times.
Back in 1991-92, if you traversed the halls of Santana High School in Santee, you might have found yourself face to face with a couple pesky teenagers who would later become two of the most recognizable faces in San Diego's local music scene. They didn't know it then, but somewhere along the line, the very different lives of Timothy "TJ" Joseph and Daye Salani would eventually find themselves linked as two of today's most visible champions of the city's music: Joseph as the primary voice behind FM 94.9's Sunday night Local 949 radio show, and Salani as host of our own SoundDiego TV program, which airs after "Saturday Night Live" on NBC 7.
"First of all, he went by Tim back then -- not TJ," Salani recalled, chuckling. "Tim was a year ahead of me. He was always well-liked and a big REM fan. He was a super sweet guy, and even though we knew each other, he was always larger than life. He didn't play guitar at the time, and he wasn't in any official bands, but you can tell the people who have an ear for music, and he was one of them."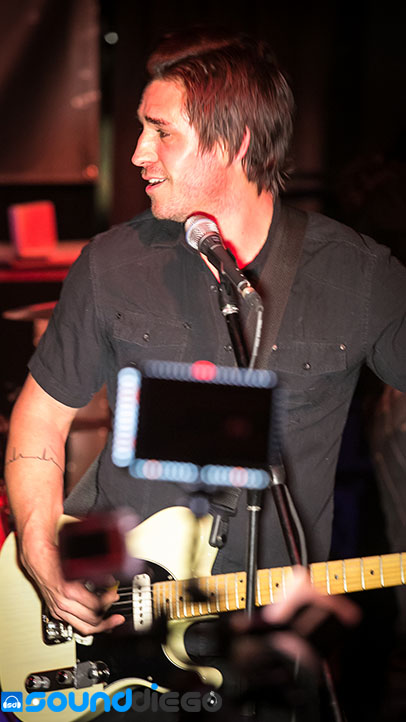 Joseph, who also fronts the local indie rock band the Palace Ballroom, remembered that time period a bit differently: "One year, [Daye and I] played in a talent show together. I think we did a U2 cover; Daye played bass. I sang, but I can't remember it all too thoroughly. All I knew was that I was on the bad side of things -- he was on the good side of things. My parents broke up, and my mom moved to Santee, which was the worst thing ever [laughs]. I was all over the board, a skater kid, and my parents were complete squares. They had one cool record, and it was Fleetwood Mac's 'Rumours' -- but they mostly had Mel Torme, Barry Manilow and all that stuff."
During those formative years in East County, both admitted to falling in love hard with music.
"I was huge Halloran/91x fan," Salani told me. "Halloran was doing nights then, so when I'd be doing homework after football practice, I'd turn on 91x and listen to him. He really shaped my musical taste: The Smiths, Echo & the Bunnymen, James -- the list could go and on. And I still love those bands to this day."
Joseph's musical appreciation evolved on a different side of the track: "We were poor. I was a Navy brat. And my brother was a huge influence on me. He rebelled early on -- we both did. When I was 3 years old, he was 9 or 10. He brought home a stereo with a couple records from the Navy Exchange: 'Hysteria' by Def Leppard and REM's 'Chronic Town' EP. I distinctly remember the contrast between the two. I just loved the angles of the REM sound; he'd play it over and over, and I was just drawn to its subversive, smart music. Big, huge, polished sounds didn't strike me as honest as those others were. I got older and got really into punk, and Fugazi became my favorite band."
While it's easy to follow the progression of their listening evolution, it's a bit harder to actually figure out how they both ended up doing a similar thing -- albeit in different mediums.
"I had some rough years, man," Joseph explained. "I was homeless for a while. I was always getting in trouble. I lost my direction a little bit, and I woke up on the beach one morning and decided to get a job at John Hines Pontiac selling cars. Academia just wasn't my thing. I worked at a gym, car dealerships -- I was bartending at 21, but playing music was my passion. When [FM 94.9] approached me about hosting the radio show, I told them I had absolutely no formal training. But I went in and guest hosted one night, and they asked if I wanted to do it again. They decided to keep me on, and I'll just keep doing it until they don't want me back."
Salani landed his gig in a slightly different manner, but it does kinda come back to that old saying: It's all about who you know.
"People assume I was a journalism major or went to broadcasting school," Salani told me. "But the job basically landed in my lap. My good buddy Matt Binder, from Hotel St. George, got an email from Eric Page [SoundDiego TV's executive producer], and he passed along my contact info to him. Binder told me, 'This guy wants to talk to you.' I guess Rick Tyner at M-Theory Records recommended me to him as well. So I got on the phone with him, and Page goes, 'You keep coming up in our meetings about possibly being a host for the show. Can you come down and audition?' I just immediately started laughing."
After several auditions over the course of 10 months, Salani was handed the SoundDiego microphone and officially stepped in front of the cameras for the first time. He admitted that there are some perks to it.
"I'm not gonna lie: Getting into shows for free is nice [laughs]. That's really the best thing. Say Prince is coming to town -- he's my number one wish-list interview, the dream -- and I'd be going to that anyway, but now I get paid to go and I get in for free? How cool is that?"
Joseph is just thrilled to be able to further the cause of local music in San Diego. For him, manning the desk at FM 94.9 on Sundays from 9 p.m. to midnight is a prime opportunity to spread the good word.
"The cool thing about the radio show is it allowed me a forum to have my friends on and talk about music. It's a tight-knit community, but it's not a good ol' boys club -- if you're friendly and an artists' artist, then I'll shake your hand and talk. I think if you have something interesting to say, you should be able to say it … I know there are kids out there doing cool, new stuff, and I just hope they submit their music. And believe me when I tell you, I listen to all the submissions. As a musician myself, I think I can remain somewhat objective. I'm looking to put good music on, and not just bands from San Diego. I'm not even the biggest 'radio' guy, but I love it when a good band gets heard."
Same goes for Salani, who couldn't help but mention a few new-ish bands he's excited about these days.
"I love Nicky Venus, Le Chateau, Swim Team -- I like their name a lot. They're kind of a new band, but they seem so polished. Oh, and TJ sent me the Palace Ballroom's latest album, and it's just incredible stuff."
Sounds like they're still the same two pesky teenagers from Santana High School, hangin' out and listening to records.
Hear TJ as the voice of FM 94.9's 'The Local 94.9' from 9 p.m. to midnight on Sundays, and watch Daye Salani on SoundDiego TV Saturday nights on NBC 7 at 1 a.m.

Dustin Lothspeich plays in Old Tiger, Diamond Lakes and Boy King. Follow his updates on Twitter or contact him directly.