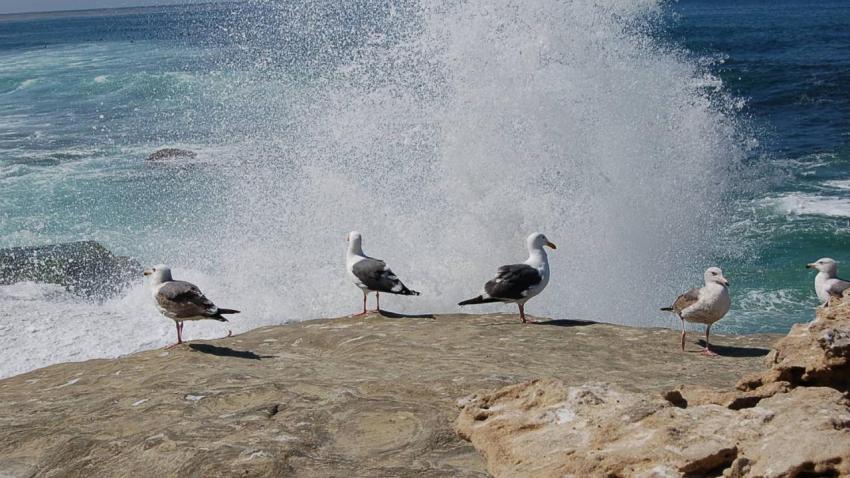 If you're looking for an "off the beaten path" place on the water and your priorities happen to be: laid back-but classy, walk to good restaurants, extreme ocean view where you can not only smell the salt air but get a face-full of spray right outside your door -- then look no further.
The Inn at Sunset Cliffs on Sunset Cliffs Boulevard, sits right on the top of the ocean. Its front yard is a series of cascading levels, dotted with outdoor fireplaces, that literally drops you close enough to the Pacific to get your feet wet, your hair damp and, as promised, your nose full of sea-spray and, if you're not careful, a little salt-water to boot.
The Inn has oceanfront and ocean view rooms. Rates run from about $150-$450 in the high season but less between September 16 and the middle of May.
It's located at the south end of Ocean Beach, San Diego's most laid back beach community, in fact, "laid back" is probably formal by most local's standards.
OB, as it's known, is a bit edgy for some, has more of that "Venice Beach quirkiness" than other San Diego beach communities. It has its share of interesting characters but no, you don't need to rent a "pit bull" to walk the streets at night, although if you do happen to bring the family mutt there's a great dog beach in OB too.
The Inn at Sunset Cliffs has good off-street parking. It's the kind of place you want to drive to and from to get to the best eating, though, if you like a fat, sloppy, juicy burger you can walk to Hodad's, located on Newport Avenue, the heart and soul of the OB business district (3/4s of a mile each way).
Right across the street from "Dad's" is the Harp, best for drinking and the live entertainment on weekend nights. If you're really lucky you'll time on a night that HELP is playing. They're a local Beetles Band and while they look nothing like George, Paul or John, (okay, maybe one of the guys has a little Ringo in him -- who doesn't, right?) they sure sound a lot like the Fab-4.
As for some really good food you'll want to get back in the car and drive to the north end of Ocean Beach. There you'll find the 3rd Corner Wine Store and Bistro. It's a great restaurant inside a greater wine store. The tables are literally spaced around between the racks of bottles and the staff are more than glad to help you pick something out, chill it for dinner, and pair it red or white with whatever your pallet is craving that particular night.
The prices are more than reasonable, entrees are usually below $25 and they sell the wine at just a bit over their cost so you can afford to go crazy and maybe try a couple of different vintages and take the leftovers back to the room for some late sipping by the seashore.