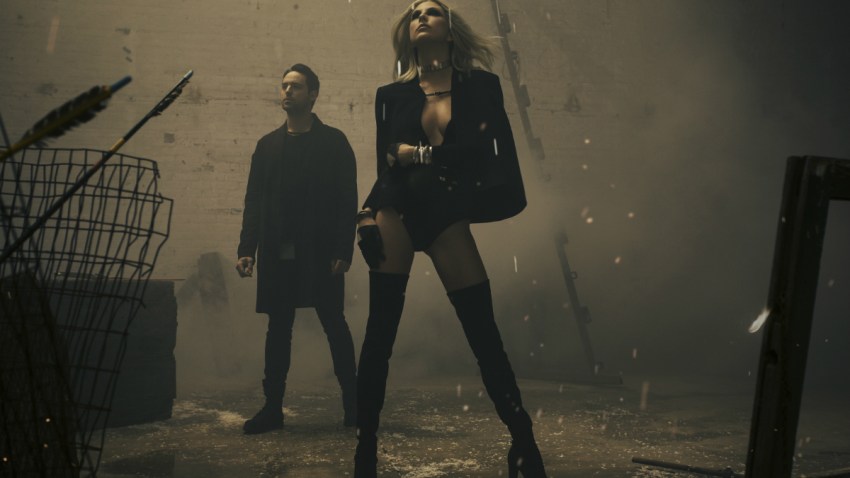 I have a confession to make: I don't like Phantogram, and I'd like to talk about it.
Have you ever dismissed a band based solely on pre-conceived (re: baseless) judgements? While I don't delight in the fact that I'm guilty of having glossed over some truly great talent over the years (Baroness, Frank Ocean, even Bowie to a certain extent), I'm not too proud to admit when I'm wrong. For whatever reason, I often have a knee-jerk reaction to music. It's hard to get past my first impression. My tepid attention span and unwillingness to accept music for what it is rather than what I think it should be has soured me on artists that otherwise deserved, at face value, a fighting chance. Could that be a universal plague of modern music consumption? Or am I just too hard on music I've never heard before? Maybe both.
Either way: I'm working on it. My intervention of sorts (with myself) came recently -- ushered in while driving on an empty road in La Mesa during an uneventful Sunday night. In an atypical move, I had a local pop/rock radio station on the stereo. And in an instant, the sounds of "You Don't Get Me High Anymore" came into focus from the din of the car engine and the rumble of tires on asphalt. I'd heard the song before. How could I not? Phantogram has been in PR beast mode the last couple months, with the impending Oct. 7 release of their third studio album, fittingly titled "Three." They've simply been everywhere.
But up until that exact moment while driving along, I'd given the electro-pop duo mere minutes of listening time before deciding to pass over their entire output. And now…well, now I was captivated. The song was, for all intents and purposes, heavy. An angsty darkness certainly surrounds it, not only in its examination of overbearing ennui but in its bludgeoning, snarling instrumentation. Beats blast and synths squelch away on a neck-snapping melody heaven sent for lead singer Sarah Barthel's brooding vocals. "Nothing is fun / Not like before / You don't get me high anymore / It used to take one / Now it takes four," she sings and I could feel my own desensitized apathy (not only to music or bands that I have erroneously pre-judged -- but to news, people, politics, etc.) start to melt away.
We live in a time where so much feels (or is) wrong, and everyone has something (usually awful) to say about it -- and more and more, it feels like it's all absolute nonsense. Just a gigantic wasteland of noise. But for what it's worth, the song was a wakeup call of sorts. Not only did I have a newfound appreciation for a group that I had slagged off for no real reason, it had also roused in me a little bit of the wonder that sometimes gets lost while just trying to get from point A to point B during everyday life.
So, thank you for that, Phantogram -- you have a new fan. And I promise, as a music listener, I'll try to do better.
Phantogram perform at the Observatory North Park on Saturday, Oct. 1 with the Range opening. The show is all ages and is currently sold out. Doors are at 7 p.m.

Dustin Lothspeich books The Merrow; plays in Diamond Lakes; and runs the music-equipment-worshipping blog Gear and Loathing in San Diego. Follow his updates on Twitter or contact him directly.