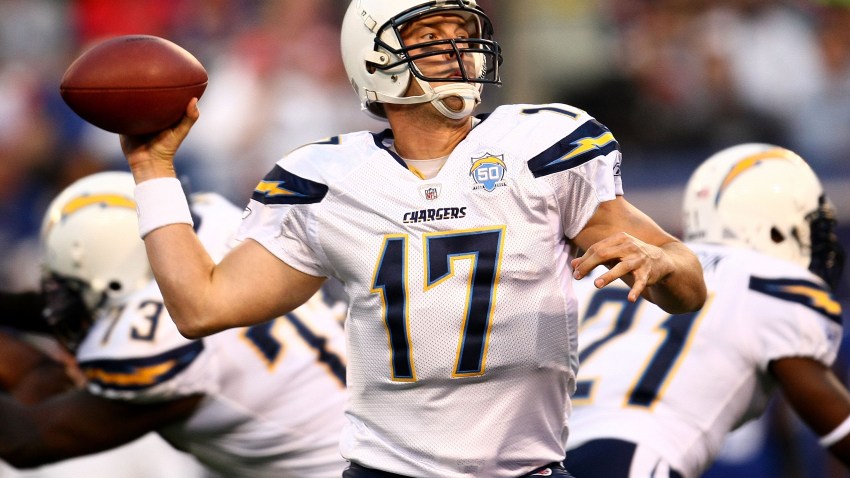 After two straight weeks of manhandling two of the league's weaker teams, the Chargers traveled to New York to pick on someone their own size. And the Bolts showed they can still play with the big boys.
In a dramatic comeback fit for Broadway, quarterback Philip Rivers hit Vincent Jackson on an 18-yard touchdown pass with 21-seconds left in the game to give the Chargers an exciting, hard fought 21-20 win.
Rivers finished the game with 209 yards passing and three touchdowns, two of them to Jackson. With the win, the Chargers improved to 5-3 in the AFC West and beat a team with a winning record for the first time all season.
The game was billed as a showdown between Rivers and Giants quarterback Eli Manning. They were both touted draft choices in 2004. Manning, who was drafted by the Chargers, refused to play in San Diego and was eventually traded on draft day to the New York.
It was sweet justice for Charger fans, who still hold bitter feelings for Manning. It was the fourth straight loss for the Giants.
In what turned out to be a defensive struggle, the Chargers got on the scoreboard first. On the first play of the second quarter, Rivers hit on a 10-yard touchdown pass to Jackson to give the Bolts a 7-0 lead.
The Giants answered with a long drive of their own. Manning – aided by two critical long third-down conversions – connected with Steve Smith for a 6-yard touchdown to tie the game 7-7.
The Chargers broke the tie in the 3rd quarter. Rivers hit Kris Wilson on a short touchdown pass giving the Bolts a 14-7 lead. It was Wilson's first catch of the season for the Chargers.
The Giants answered right back on their next series. Lawrence Tynes connected on a 37-yard field goal to cut San Diego's lead to 14-10.
The Chargers were overwhelmed on their next series, losing yards and punting the ball right back to New York.
The Giants marched right down the field to take a lead for the first time in the game. The Chargers defense, showing signs of fatigue from being on the field for nearly half of the game, missed several tackles and the Giants ended the drive with a Manning touchdown pass to Kevin Boss.
After a Rivers interception, New York added another Tynes field goal to take a 20-14 lead.
But Rivers would make amends in a big way, leading the Chargers on the winning drive.
The Chargers now come home to host Philadelphia next Sunday at Qualcomm Stadium.