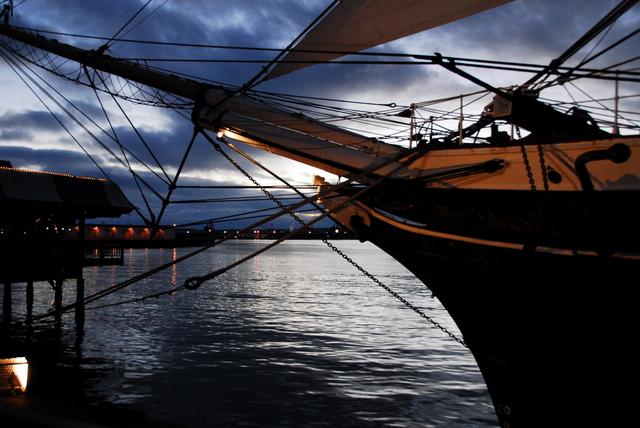 It made 21 trips around the world before making its home in San Diego. It lost its captain on the first voyage, made it through a cyclone, ran aground in Hawaii, carried hundreds of passengers at a time and lost its share of sailors at sea.
Some say all that history still lingers on the Star of India.
It's the oldest active sailing ship in the world and at 280 feet long, the Star of India is one of San Diego's most popular tourist attractions.
By day.
But as daylight fades to night, that's when some say the history of the 147-year-old vessel truly comes to life.
Jim Davis started working on the ship as a teenager and almost immediately saw and heard things, like the night a cupboard opened itself and then slowly closed.
"I watched it go click and lock itself. I decided to go up on deck right after that," Davis said.
A night watchman once told him about hearing a crowded party onboard.
"He's going out with his club to get them out of there. No one there," Davis said.
Then, there's John Campbell. The 15-year-old stowaway who died after falling from the mast in the 1880's, whose ghost Davis believes setoff the ships brand new alarm 14 nights in a row.
"And I basically said, 'John you better get used to it. It's not going away'," Davis said. "It stopped the next night."
The San Diego Ghost Hunters say it's a pretty active ship, which is exactly what they go looking for.
"It's like layers of time," said Ghost Hunter Maritza Skandunas.
"There's a theory that spirits can be seen in the spectrum of light that we can't see with our eye," said Ghost Hunter Matthew Schulz.
Using infrared and thermal imaging cameras they try to capture the spirit world at some of San Diego's most historic and possibly haunted locations.
"Right in this area I experienced a disembodied voice," Schulz said. "We just heard footsteps right there."
Along with a keen ear, they say a voice recorder and ordinary digital camera sometimes produce the best results.
An image is believed to show a woman named Suzette, who told the team she had been murdered. A woman possibly heard in an audio recording. Infrared video shows some sort of light floating through the air.
"I think the neatest thing we got was Ben," Skandunas said. "I asked him, can you please touch the pole so everyone will know you're here and something leans out of the darkness, no body heat signature at all, and you can see an arm touch the pole and go back."
The goal is to connect the names and pictures to actual historical accounts. But if you believe this is more a trick on the senses and less of a history lesson, they say that's ok.
"I'm not out to convince anybody else. Everybody has their own beliefs and I have mine," Schulz said.
"It's like a treasure hunt, we never know what we're going to find," Skandunas said.
As for Jim Davis…
"Sometimes I don't believe in ghosts. Other times I do believe in ghosts," he said.
Either way, he says it is not quitting time anytime soon.
"Nothing's going to scare me away, that's for sure. But there's still head scratching times," he said.