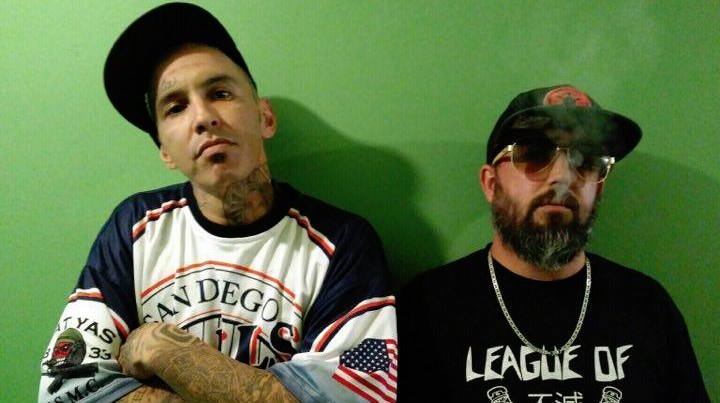 "Being Human Is Boring" is the latest album from rapper Benny Quezada, aka 3D, and producer RJ Lee, aka Ethyx.
The title suggests that life can be bland, full of monotony, slow tedium and a bit of a tiresome drag. But the project itself, with its jigsaw styles, stabs at pop music and bilingual lyricism, is far from dull.
There's civic pride by way of 619 shoutouts and nods to local landmarks like Chicano Park and Greene Cat Liquor, which both serve as reminders that this is very much a West Coast production. But the LP's soul, that certain je ne sais pas quoi, feels a lot like New York City circa 1994, with Ethyx chopping samples and 3D's cipher-ready word play.
Quezada is laid-back on "The Block," with its sharp snare and hazy atmospherics, painting pictures of classic Southern California where white T-shirts are the uniform and El Caminoes signify that you've arrived. But he doesn't stop there. After moving through ideas about status in English, 3D transitions into fluid Spanish couplets, expanding his concepts between two languages -- all without sacrificing essentials like feeling, attitude or rhythm.
He's equipped with battle raps on "It's Official," his fangs dripping venom: "I will punch you in an upward position and call it a face lift, what is this, another rapper talking 'bout a space ship?" And gets gritty as he slinks over "Energy" with its cascading piano and broad bassline.
But the biggest surprise here is "Slipping Away," the album's lone pop tune. Built from subtle keys and moody strings, it's Quezada and Lee taking a risk. It may seem counter intuitive to take a risk by aiming for crossover appeal, but that's exactly what they do. By completely stepping outside of the framework they create on the rest of the album, they gamble for mainstream accessibility. And here's the kicker: they pull it off.
So, while humanity might be cursed by all things mundane, these two don't show it, and they most certainly don't deliver a project that's anywhere close to being boring.

J. Smith, aka 1019, is a San Diego native, rap fan and one half of the rap duo Parker & the Numberman. You can follow him on Instagram at 1019_the_numberman or on Twitter