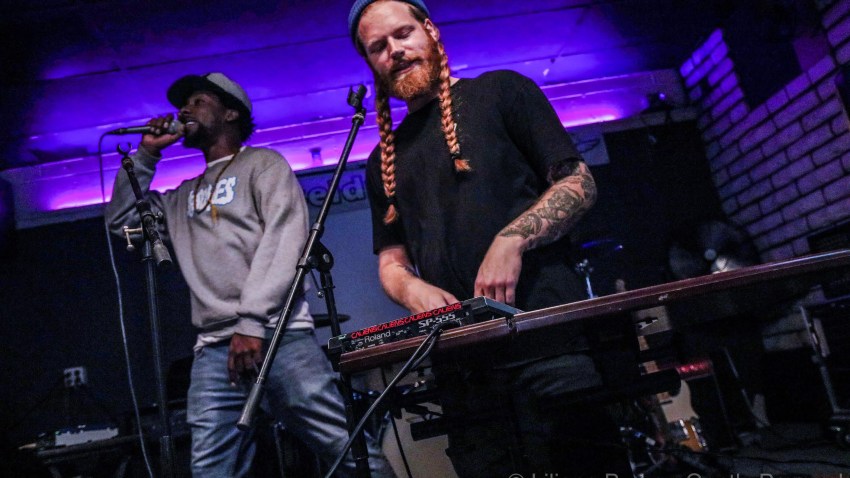 December: It's a month for giving. And on the 26th, 24 hours after our most popular day for exchanging gifts, San Diego rap duo 18Scales (comprised of producer 18sense and emcee/vocalist Ric Scales) share their latest studio effort, "Sometimes It Rains."
The group's third release of 2018 (following June's "Free-Bees 1.8" and "Fade Nasty Vol. 1 'Who Did It?'") is all mood music -- an insular space where vibe takes billing over form.
"It's not in-your-face rap...there's a lot of feelings in it," says Scales. "It's basically all about emotions."
Indeed, as the opening track finds him voicing melodies and singing his way around a lazy-day guitar riff: "I just wanna feel free sometimes." And it seems genuine, like if they ever decided to make an official R&B album, it really would work.
There's still enough raw bop for the die-hards though, his elite skills intact and in play, with Ric morphing from earnest crooner into soulful rap genie throughout the rest of the project.
As for destination points? He doesn't have any -- this one's a creative labor of love; art for the sake of creativity.
"We wanted to put out some music that people could enjoy, ya know?" Scales says. "It wasn't necessarily, 'Oh we gon' kill 'em with this' or, 'Oh this is gonna make that happen.' It's just we wanted to put something else out."
No doubt -- and on the day after Christmas, we'll be able to unwrap one last goody.
To listen/buy, visit 18Scales' Bandcamp page.

J. Smith, aka 10-19, is a San Diego native, rap fan and San Diego Music Award-winning musician. You can follow him on Instagram at 10-19_the_numberman or on Twitter.