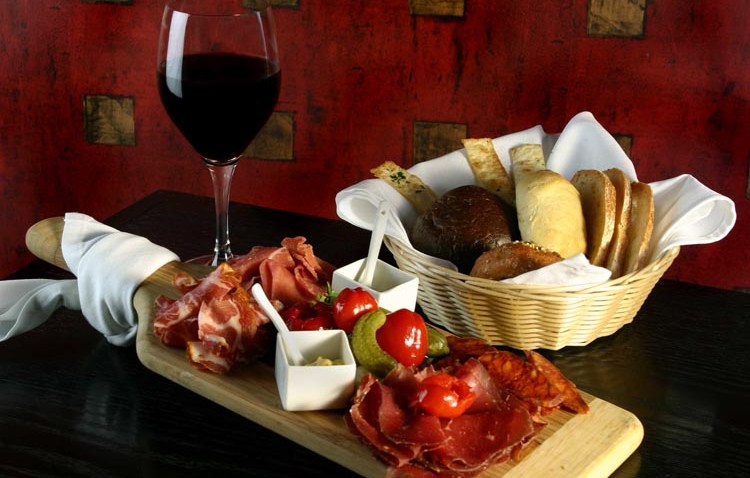 San Diegans are devoted to snacking on artisan cheeses and locally-cured meats, so local restaurants are serving up the chic eats on plates, boards and platters fit for a king. Check out these businesses, highly-rated on Yelp, offering tasty cheese and charcuterie – and don't forget the baguette!
The 3rd Corner (Encinitas)
Make reservations, trust us, as this coastal city favorite gets super busy and once you see the menu, you won't want to have to wait. Once you get your table, order it all. Start with the Artisan Cheese and Salami Plate served with date jam, pecans, apples, a baguette and dried apricots plus add the Mediterranean Olive sampler, all for under $25. There is also a Baked Humbolt Fog with sautéed mushrooms and toasted brioche that could start an addiction. Don't say we didn't warn you.
Relm (Carlsbad)
A local's favorite down in the Carlsbad Village, Relm is a wine bar also known for its delicious menu. The selections available change weekly and on-site wine educators can fill you in on what's available. You can choose from small (two cheeses, $13) or large (four cheeses, $21) and both options come with organic honey, dried fruit, grapes and a fresh baguette. Meat can be added for only $6, too. The baked brie or prosciutto rolls with goat cheese and mint are also nosh-worthy.
The Scene
Food. Fun. Lifestyle. Features. All in America's Finest City.
The Barrel Room (Ranch Bernardo)
Yelpers are buzzing about this romantic location in Rancho Bernardo, and it's not just because of the extensive wine selection. For $18 you can get "The Board" and choose three cheeses and three meats from almost 20 daily options, served with a perfectly crusty French baguette. If your mind is reeling from all those choices, just order Momma's Brie. It's baked in a golden pastry topped with candied pecans and raspberry preserves.
Blind Lady Ale House (Normal Heights)
Yes, loads of craft beer, but also one of the best deals in town for cheese and charcuterie. For $15, you can choose three cheeses from the board of today's selections, served with plenty of bread and accompanied with fresh arugula, honeycomb, roasted nuts and local fruit. The charcuterie plate is another steal for only $12 – so why not get both? You'll find homemade Ciccoli, lamb and pork terrine with apricots and hazelnuts, plus so much more.
Blue Bohème (Kensington)
The Yelp reviews sing the praises of the generous cheese and charcuterie plates purveyed by the proprietors of Blue Bohème. The plates feature a Pâté et Terrine du Chef that is fantastic or the "La Charcuterie" option with garlic sausage, Spanish chorizo, house pickled veggies and more. Plus there's a fantastic cheese plate with imported French cheese, a lovely honeycomb and fig terrine. You'll want to stuff your face with this fromage!
Juniper & Ivy (Little Italy)
Chef Richard Bias handles this so-called "left coast cookery" like the pro he is and the chic presentation of the house charcuterie selections mirror the fantastic venue itself. Currently, you'll find a board of spicy lamb sausage, headcheese and mortadella, a delightful Italian "bologna" packed with the sinful taste of pork fat. Start or finish your meal off right with the perfect flavors and presentation. Note: the menu rotates regularly, so there's always something new to taste here.


Trish Sanderson is the community manager and marketing director for Yelp North County San Diego. She leads the local community of Yelp reviewers both online and off.