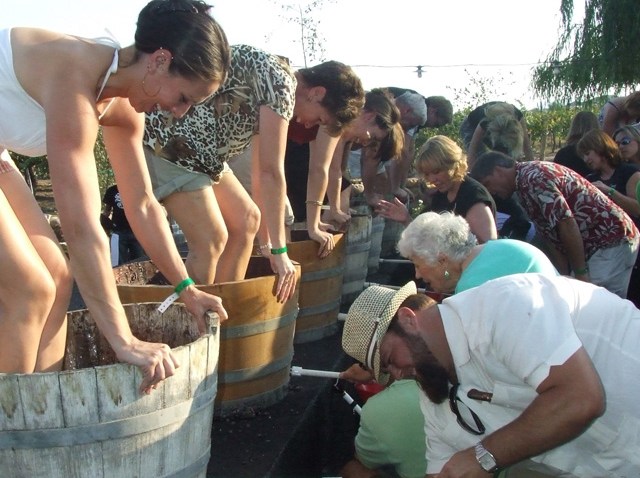 Your job: Decide to get out of town and fast. Our job: Help you find where you're headed. This week, Worth the Drive takes us to...
Ponte Winery Grape Stomp: Leave those pretty wine tasting outfits at home because this time your getting down and dirty. There will no dainty wine sipping or sophisticated swirling and sniffing. Instead, you'll be stomping on grapes, Lucille Ball-style. It's one of their biggest events all year.
Other activities: You mean other than smashing grapes with your bare feet? (Which is not how wineries make wine anymore, by the way, contrary to popular belief). You'll also find yourself dancing to live music and involved in tractor-gondola rides. The day will top off with a seasonal Harvest Celebration dinner.
Worth The Trip
Our daily look at deals and getaways
Place: The Ponte Family Estate Winery. It's a 310-acre family-owned winery in the heart of Temecula Wine Country. Far enough to say you're on vacation, but close enough to save on some gas money.
Save the date: Sunday, September 26 from 4 p.m. to 9 p.m.
Heads up: Reservations are required and limited tickets will be sold. $95 per person or $85 for Wine Club members. Children under 12 are $46 or $41 if their parent is a Wine Club member. Oh, another heads up: September is harvest time in California, which also means Wine Month, as if you needed another excuse to go.
Here's a taste: …of what's on the dinner menu. Oysters on the half-shell, Grape Wood Smoked Trout, stuffed loin of Berkshire pork, and plenty more. For dessert? How about some tiramisu, Italian cookies, espresso chocolate crème brule or stone fruits with cream? Mouth…watering…

Stay connected to what's going on around town by signing up for our daily newsletter.